Go to our Canadian store
Free shipping anywhere in Canada
Buy in Canadian dollars
Order ships from our warehouses in Canada - no delays at customs
Visit Canadian Store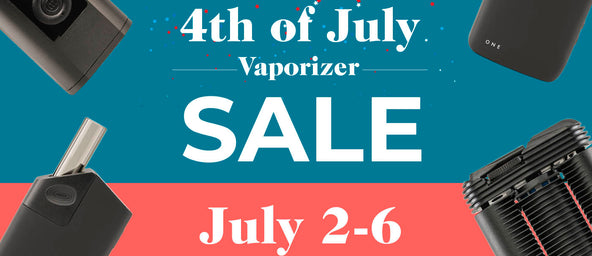 Black Friday & Cyber Monday Sale 2021
We're celebrating the 4th of July with discounts on some of our most popular dry herb vaporizers!
✅ No Codes Required ✅ Hassle-free Returns
✅ Orders Include Bonus Gifts + FREE (US) shipping
⚡ Our Black Friday 2021 has ended ⚡
Staff Favorites
POTV's favorite vapes at all-time low prices!
Over 9000 customers rate us 4.8 out of 5


Storz & Bickel: 25% OFF
Our Lowest S&B Prices EVER!
---
PAX: 20% OFF
The best PAX deal of the year!
---
---
Arizer Vaporizers: $20 OFF
High performing POTV and fan favorites.
---
DynaVap Vapes and Accessories: 20% OFF
Save BIG on our favorite battery-free vaporizer. See all DynaVap deals.
---
---
---
Save 20% on these Delta 3D Accessories
Perfect add-ons for your PAX, Crafty+ and Mighty!
---
---
Flowermate: $10 OFF
Save $10 on the compact and reliable Flowermate dry herb vaporizers!
---
Save 15% and 20% on these vapes
Massive discounts on Ditanium, EpicVape E-Nano and more!
---
Sticky Brick: 15% OFF
These flame-powered vapes are a piece of art!
---
DaVinci Vaporizers: 20% OFF
Pocketable and beautifully engineered vaporizers.
---
POTV Grinder + Herb Stash: 20% OFF
Save 20% on these must-have accessories from Planet of the Vapes.
---
JyARz: Save 20%
Our favorite storage containers are on sale. Enjoy 20% OFF the entire JyARz collection!
---
See Our Whole Collection of Vapes
The best Black Friday sale around
Black Friday/Cyber Monday is here, and so are the vape deals! Score BIG on the best vapes from reputable brands like Storz & Bickel, DynaVap, Arizer, and more. With the best discounts on top-rated dry herb vaporizers around, now is the time to act. Whether you're looking for the one vape to rule them all, or just the best vape for your needs, we've got you covered.
You're covered
Each discount is valid only while supplies last or until Tuesday, November 30th at 11:59 PM PST. When you purchase your new vape from us, you're also covered by our exclusive 100% Satisfaction Guarantee, extended from 14 to 28 days! If you're not satisfied with your purchase, you can return it for a full refund, even if it's used. You'll also receive quick, free shipping on all orders $25 and up after tax.
Let's give back
And to give back this year, every purchase you make here helps us donate 500,000 meals to different hunger relief organizations in the US and the world this holiday season.
Hungry for more?
We gathered all of the Black Friday vape deals we could find on our Roundup page! We list every vaporizer discount available from every corner of the industry all in one place, just for you.

🍁 For our Canadian friends, we're also offering (mostly) the same deals on our Canadian website.
Extended 100% Satisfaction Guarantee