Go to our Canadian store
Free shipping anywhere in Canada
Buy in Canadian dollars
Order ships from our warehouses in Canada - no delays at customs
Visit Canadian Store
EZ Sai Kit
Free Shipping
Easy Returns
World Class Customer Service
Shop with the most trusted vaporizer store
Who's the EZ Sai for?
The EZ Sai is a pocketable, pen-shaped vaporizer for load-as-you-go herbal extracts (also called concentrates, wax, etc.) that performs as well as most home rigs, but without the high price tag or being chained to the wall. The EZ Sai kit comes comes with a battery that perfectly matches the Sai Atomizer, and is available in Stainless Steel or Black. Skip all the junk vape pens out there and step up to what the pros use!
Fast, tasty and potent
The Sai (short for Saionara) atomizer is no joke, with tasty, potent hits in seconds, no matter which version you go with. Keep the power and temperatures low for light and tasty hits, or crank it up for clouds as thick as you want!
Durable, quality construction
The EZ Sai is built to last. The housing is made of stainless steel, with no glues or solder. The wire coils are strong and durable - when most other coils are breaking, Sai coils keep going. If the coils start to taste foul, you can clean them to fresh-as-new instead of throwing them out! We lab tested the metals in all the coils to confirm you're getting what you paid for.
Different coils for different styles
The EZ Sai comes with two coils. The twist kanthal 4mm quartz rod coil works with the wattage setting (25 watts, not variable), and is the one to use for quicker, stronger hits. The triple titanium quartz rod coil works with the three temperature settings so you can dial in the taste you're looking for.
Which Sai should you get?
We offer several configurations for the Sai, and this EZ Sai kit has everything you need to get started. Check out our kits if you'd rather go with a box mod configuration. If you already have a box mod, all you need is the Sai Atomizer, but if you want to use it with a bucket coil, make sure to get the Top Air Flow version.
Read our full Saionara Buyer's Guide
Extracts only
This is the first extract-only product offered here at Planet of the Vapes, so we need to state the obvious - the Sai is not for dry herbs.
If you go with one of our Sai atomizers without power and intend to use your own box mod, make sure it's capable of pushing out at least 40 amps. And if you plan to use any of the titanium wire coils, make sure your box mod has a TC-Ti mode (temperature control for titanium).
Warranty Information
While the Saionara packaging mentions a lifetime warranty, this only applies to the atomizer itself. The battery unit included with the EZ Sai is covered by the manufacturer for 90 days. Saionara coils don't include any warranty, because even though you can clean and re-use them to a point, they're generally not meant to last forever.
What's in the box
EZ Sai Battery
Sai Atomizer
Kanthal 4mm Quartz Rod Coil
Triple Titanium Quartz Rod Coil
USB Cable
Dab Tool
2 x Extra O-Rings
Customer Reviews
Write a Review
Ask a Question
Filter Reviews:
coils
EZ Sai
hits
Shipping
device
concentrates
best
battery life
everything
vape pen
10/08/2020
Roman C.
United States
Ez Sai Kit
Freaking awesome
10/01/2020
Andy W.
United States
The Very Best
For my use, this is the most effective, easy to use, and dependable Kit of them all. And I've tried several. Plus, it just looks cool. The only drawback --- and it's really not a big deal --- is that it weighs about 5 pounds. (Actually, it's only about 4 1/2 oz.) But it's got a lot of heft. Really solid, great product.
10/01/2020
David H.
United States
Sturdy Construction
After messing with different temps , I figured out the right temps for shatter vs wax and it works great.. Build quality is impressive.
10/01/2020
William H.
United Kingdom
Can't get better
If your after an affordable , high quality, easy to use product... Then buy one of these full Sia Kits. I've used my with approximately 40g of 'product' and it still works perfectly, all you need to do is know how to clean it properly and how to load it up, everything is self explanatory. 10/10 product !!!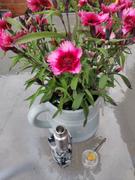 09/19/2020
Matt
United States
Just whoa
It's nice to get a product that works better than advertised! Seriously huge clouds of smoke, rivaling a dab rig. Much easier to use and it also seems to make the most out your concentrates.