Go to our Canadian store
Free shipping anywhere in Canada
Buy in Canadian dollars
Order ships from our warehouses in Canada - no delays at customs
Visit Canadian Store
Flowermate V5.0S Vaporizer
$79.95
Regular price
$99.95
You save: $20.00
Shop with the most trusted vaporizer store
Who's the Flowermate V5.0S for?
The V5.0S is a great choice for someone looking for an affordable, easy to use, well made, portable vaporizer at a great price.  
Simple
The Flowermate V5.0S features a convenient single button which controls both the power and temperature. Using the Flowermate is truly simple. Load the chamber and then turn the unit on.  Within 30 seconds the unit is ready to vape. 
Even vaporization
The Flowermate uses conduction heat to vaporize your aromatic blends. The ceramic heating chamber is specifically designed to ensure your material is evenly vaporized with no stirring.
Impressive battery life
The Flowermate V5.0S is powered by two high-quality 18650 batteries which deliver up to 2 hours 30 minutes of vaporization. This is some of the best battery life of any portable vaporizer on the market. Also, the v5.0S features a 6-minute auto-shutoff to preserve battery life and USB charging allowing you to power up almost anywhere, with pass-through support so you can keep vaping while you charge up.
Vapor quality
The Flowermate's vapor is smooth.  Even with the short air path of a portable, the glass stem does a nice job cooling the vapor. The V5.0S keeps the flavor nice and strong while giving you about 10-15 draws from a fully loaded chamber.
3 temperature settings
The V5.0S has 3 ideal vaporization temperature settings at 385° F / 195° C, 400° F / 205° C and 415° F / 212° C. Don't worry about your technique, the settings are programmed so that you will never combust.  
Quality construction
The Flowermate features a ceramic heating chamber, Pyrex stem, and an anodized aluminum shell in your choice of 6 colors.
Works worldwide
The Flowermate charges via USB so it will work anywhere in the world. Charge using any USB wall plug, power bank or even computer if in a pinch. 
Pocket size
The Flowermate easily tucks away in your pocket and looks like a power bank.  The loading chamber and stem are hidden in sliding compartments for a discreet look and very little odor can be detected when not in use.
Low maintenance
Cleaning the Flowermate is easy. Just brush off the loading chamber and screens after use and use a cotton swab with Isopropyl alcohol if there is build up.
Warranty
We are authorized dealers of Flowermate vaporizers.  Your vape will come with a 1-year manufacturer's warranty against defect and 90 days on the batteries. As with everything purchased from Planet Of The Vapes, you are also covered by our 100% Satisfaction Guarantee.
What's in the box
Flowermate V5.0S Vaporizer
Pyrex Glass Stem
Concentrate / Wax Pod
Herb Pod
USB Cable
Cleaning Brush
Packing / Dab Tool
Extra Screens
Manual
Customer Reviews
Write a Review
Ask a Question
Filter Reviews:
vape
price
battery
unit
mouthpiece
chamber
customer service
vaporizer
lungs
reviews
09/07/2020
James W.
United States
Flowermate V5.0
Haven't opened it yet. I've owned several with great luck. Always keep one on hand in case mine dies. So as not to be without. Great portable vaporizer.
09/03/2020
James F.
United States
Sent back for repair
Tops when it worked
09/03/2020
Tim F.
New Zealand
V5.OS Vape
At first I thought I'd purchase the V5 Nano. However, this model arrived. On testing, I thought the device didn't give big vapour clouds and I didn't think the batteries last as stated two hours. And the glass mouth thing gets too hot and I think it's not for me. I've now purchased the V5 Nano within my own country as given 3 years warranty. Overall each to there own. For the cost of international shipping, I wouldn't purchase from the USA again.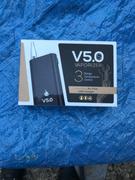 09/05/2020
Planet Of The Vapes
Hi Tim, I just checked your order and you did order a V5.0S. Really sorry that you didn't order the right product. And I totally agree with you in regards to international shipping. Not only is it more expensive but items can get hung up in customs as well. Not only that but if anything should go wrong with your vape, we can't accept used vapes back through US customs. All things considered, it's always best to order from your home country if that is an option. Regards, Larry
09/03/2020
Coder P.
United States
Poorly Constructed
Only got to use the device 4 times before the usb charging port dislodged and was left rattling around inside of the unit. Have returned it and now must wait however long it takes for it to be fixed or replaced and sent back.
09/05/2020
Planet Of The Vapes
Really sorry about what happened here along with the inconvenience of having to deal with an exchange, Coder. You should have already received your new Flowermate. I know that you're working with Mike, one of our vape experts here. If you haven't received it yet, please contact him on the service ticket that we have open for you. He will more than likely reach out to you before then. Please stay safe out there. With best regards, Larry
09/03/2020
Trent C.
United States
Sticking problem
The "herb" sticks to the bottom of the mouth piece Everytime you inhale. The "herb" burns, but the vapor cannot come out because of the "herb"sticking. There is a container to put it in that comes with it, but it never gets hot enough to vape. Very disappointed, and I'll have to shop around for another one.
09/04/2020
Planet Of The Vapes
Something is amiss here Trent. Creating a service ticket for you right now to discuss. In the meantime, try a coarser grind, and rather than taking a hard draw, take very quick, cigar-like puffs instead and make sure that the oven is fully loaded with a firm tamp. Talk to you soon, Larry