Go to our Canadian store
Free shipping anywhere in Canada
Buy in Canadian dollars
Order ships from our warehouses in Canada - no delays at customs
Visit Canadian Store
Mighty Vaporizer by Storz & Bickel
Free Shipping
Easy Returns
World Class Customer Service
Shop with the most trusted vaporizer store
Who's the Mighty for?
The Mighty vaporizer is a great choice for those looking to carry first-class vapor quality around with them. It boasts great battery life, and an extremely durable, high-quality construction from a trusted manufacturer. It doesn't quite fit in your pocket, but it's easy enough to throw in a bag or purse, so you don't ever have to sacrifice on experience, no matter where you go.
Unparalleled performance
The Mighty delivers unrivaled vapor quality from a portable vaporizer. A large heat exchange ensures consistent heat and ideal convection vaping. As the oven heats up, it will provide some conduction heat later in the session, for a full extraction and tasty draws.
Portable, not pocketable
Though the Mighty is a portable vaporizer, it's a little too big for most pockets, although it's easy to throw in a purse or bag. It's better to think of it more as a convenient, cordless vaporizer for home use. It's about twice the size of the Crafty, which gives you room for full on-board controls.
See our Mighty vs Crafty comparison for a full breakdown of the differences between these two portable vapes by S&B.
Battery & power
The Mighty delivers 90-120 minutes of vaporization on a full charge, just about double the capacity of the more pocket friendly Crafty. That's a strong showing for the category, even considering the Mighty's size.
Medical grade materials
Storz & Bickel takes great pride in their material selection, and it shows in all of their products. The Mighty is made without any glass, so it's extremely durable, and none of the parts will let off any hazardous or odorous fumes or materials when heated. If you're concerned about material safety, the Mighty and its siblings are made with medical grade materials and are backed by numerous safety certifications.
Warranty
We're authorized dealers of the Mighty vaporizer, so if you decide to buy your Mighty from us, you are backed by a two year manufacturer's warranty against defects. As with all vaporizers purchased from Planet Of The Vapes, you're also covered by our 100% Satisfaction Guarantee.
What's in the box
Mighty Vaporizer (latest version)
Power Adapter
Liquid Pad
Spare Screens
Cleaning Brush
Herb Grinder
Filling Aid
Spare Seal Rings
1 Dosing Capsule
Instructions
Technical specifications
Height 5.5 in / 14 cm
Width 3.2 in / 8 cm
Depth 1.2 in / 3 cm
Weight .5 lbs / 230 g
Dual 2668 mAh Lithium-Ion Batteries
104° F - 410° F (40 - 210° C) Temperature Range
100 - 240v Power
Made in Germany by Storz & Bickel
2 Year Warranty
Customer Reviews
Write a Review
Ask a Question
Filter Reviews:
mighty
vape
vaporizer
battery life
device
experience
purchase
dosing capsules
herb
money
Solid vape overall
Had this for about 2 years now and she still works great. Holds a charge for hours and is semi portable. Price is on the higher side but worth it in my view. I suggest buying a stand for the mighty as it's easier to fill and charge. Stock up on extra screens you'll need them if you're a heavy user like myself. A smell proof case is also highly recommended. The taste from flower is superb, just be sure to clean on a regular basis. Overall this vape is worth the investment if you're looking for a step up in your vapeing experience.
Best vape EVER!
....buttttt if you don't want to get the best of the best. The Mighty's little brother, the Crafty, will be everything you need and more. Only big differences between the two is the Mighty has dual cooling chambers and definitely a long lasting battery. The Crafty has a good cooling chamber but the battery is definitely only 30 mins. Hope this review helps someone!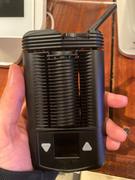 Best vape I've owned
I have been using this vape since the day it came in the mail. The Mighty has performed flawlessly. The best advice I can give is to learn what the ideal temp is for the herb you put into it. The lower the temp the better your sessions will be. Learning this will help you enjoy vaping without the cough or harshness that some herbs just seem to cause. My preference is to start at around 340f to 360f and go up in 10 degree increments. I will do two ten degree temp changes until the exhale is thin and finished between 375f to 385f. If you use the pods you can wipe unit clean after each use and it will remain almost as pristine as when you first received it. I remember hearing the statement in a YouTube video that you should skip all the other vapes and just get a Mighty. I wish I had of listened and saved a few hundred bucks.
Mighty
After an issue with the post office, another was sent a week later. Customer service always emailed back pretty quick. Only site I could find that actually had the Mighty in stock at the time. Would recommend. Device works as it should
First time vape user
I purchased my Mighty almost two weeks ago. Got it in two and a half days. Was surprised how fast it arrived. First try with my own flowers, I couldn't get over how great this is. I can actually taste my own flower and it tasted awesome. I will never go back to rolling out using a pipe again. Thank you POTV for getting me this product in such a short time. Thank you S&B for making an amazing product!
09/07/2020
Planet Of The Vapes
Our pleasure, Bob. Enjoy... Larry