Go to our Canadian store
Free shipping anywhere in Canada
Buy in Canadian dollars
Order ships from our warehouses in Canada - no delays at customs
Visit Canadian Store
Sticky Brick Hydrobrick Maxx Vaporizer
Free Shipping
Easy Returns
World Class Customer Service
Shop with the most trusted vaporizer store
Who's the Hydrobrick Maxx For?
The Maxx is Sticky Brick's water-ready desktop vaporizer. Its simple design efficiently blasts out thick, tasty clouds without the need for extra batteries or a charging outlet. It heats up quickly and works well with big or small loads. The Maxx's built-in storage container, stir tool slot, and connections for a whip or Hydrotube complete the package, whether you're vaping at home or on the road. With just a little practice with the torch-lighter, you'll dial in low or high temperatures, and be in complete control of your sessions.
Water Ready
The Sticky Brick Maxx comes ready with an 18mm male joint. Connect the Sticky Brick Hydrotube for amazingly cool and smooth vapor.
Whip It Up
The Maxx comes with a medical-grade silicone whip with three whip connectors: 18mm Male, 18mm Female, and 14mm Male. Relax into your session or pass around with friends.
Portable, But Not Pocketable
Take the Maxx out and enjoy it anywhere you want. Its unique form allows for easy travel, but won't fit in your pocket and will take up a lot of space in a small purse or bag. Check out the Junior for a pocket-friendly unit.
No Batteries!
Sticky Brick vaporizers work great with a single flame torch, putting you in full control of the heat up. Change the distance of the flame or your draw speed to create different results and temperatures. Pair a slow draw with a close flame for dense hits, or a fast draw with a distant flame for flavorful vapor. Multi-flame torches work, but aren't necessary with the Sticky Brick lineup.
Sticky Bricks bring the heat with massive hits. After you've finished this review, you'll know which one suits your needs.
Instant Heat Up
The Sticky Brick Maxx produces vapor in as little as three to four seconds. You can't get any faster than that. Just torch and go!
Great For Big or Small Bowls
Sticky Bricks are some of the most versatile vaporizers on the market. Each one can hold as much as 0.3 grams, or as little as 0.1 grams, and still kick out huge flavor.
No Waste
The Sticky Brick Maxx is very efficient, and only cooks your herbs when you inhale. You can take as long as you want to go through a bowl. Start one in the morning, and finish it off later in the day.
Concentrate Compatible
Each Sticky Brick comes with a stainless steel pad for concentrates. Load the pad into the heating chamber and drop your concentrate on top. Fire up the torch and begin inhaling.
Quality-Built in the US
The Sticky Brick Maxx is handmade in the US, with quality materials and comes in four unique types of wood. The durable, hardwood construction can last a lifetime, and the thick Simax Borosilicate glass is strong and flavorful. Maintenance and assembly is simple and easy, thanks to the magnetic connections.
Warranty
Sticky Brick vaporizers are covered by a lifetime warranty against manufacturer defects. All glass is covered by a 15-day warranty against manufacturer defects. As with all vaporizers purchased from Planet of the Vapes, you are also covered by our 100% Satisfaction Guarantee.
Other Sticky Brick Vaporizers
What's in the box
Single flame torch lighter (shipped empty)
Two carb corks
Two storage corks (one installed)
One stainless stir stick
Two wooden sticks
Six screens
Two Restrictor Discs (one installed)
One Sticky Pad
One 18mm dry mouthpiece
One medical-grade silicone whip
Three whip connectors: 18mm Male, 18mm Female, and 14mm Male.
User manual
Technical specifications
Height: 3.6"
Width: 4"
Depth: 2.25"
Weight: 11.6oz
Manual temperature control
Lifetime warranty - manufacturer defects
15-day warranty on glass - manufacturer defects
100% Satisfaction Guarantee
Customer Reviews
Write a Review
Ask a Question
07/21/2020
Sean Q.

United States
Sticky Brick for the win
Sticky brick Maxx is wonderfully crafted and produces big clouds. It vaporizes flower to a dark brown, huge clouds. Will give extra tasty rips with the restrictor installed, material will be light brown when done. Does concentrates easier and better than anything that I've ever used. Got it dialed in after a couple sessions, 100% recommend. Way better on my lungs than traditional smoking and this piece is as reliable as your torch. Makes all vapes I've ever owned a joke.
07/11/2020
Oscar

United States
Amazing brick..
Just bought my own brick. I have used the Maxx in the past and finally bought my own. Just be patient while learning how to use it. I do recommend using the restrictor disc first. Once you master it you will find that it is easy to use. Brings out all the flavor from you herb. So far best vaporizer I have used.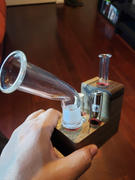 06/02/2020
James D.

United States
Hydrobrick
Excellent vapor production from the Hydrobrick and also excellent service from planet of the vapes.