Go to our Canadian store
Free shipping anywhere in Canada
Buy in Canadian dollars
Order ships from our warehouses in Canada - no delays at customs
Visit Canadian Store
Shop with the most trusted vaporizer store
Who is the Volcano Hybrid vaporizer for?
The Volcano Hybrid Vaporizer is designed for the person who appreciates quality at every corner, and is willing to pay for it. It utilizes the latest Bluetooth controls, but is still simple to use, with amazing efficiency. Whether you like to blow bags and move around the house, or use the new whip for stronger taste profiles, you're consistently getting a top-shelf experience.
Whips and bags
For 20 years the Volcano has led the way with its iconic bag and perfect valve system. The Hybrid offers that same attention to detail for direct draw. The whip has plenty of length to cool the vapor, and the air flow is easy and comfortable. Now we have the best of both worlds!
Great for solo or group use
Bags are great for any occasion. Blow them up partially when vaping alone, or fill them up for bigger groups and take them anywhere. Whips typically work better flying solo, but the Hybrid whip conveniently swivels, so it's easy to pass around the circle as the party grows.
Fastest Volcano ever
The new Hybrid Volcano heats up in only one to two minutes, or about how long it takes to prepare a bowl. That's a big improvement over the three to six minutes older versions needed. Once it's up to speed, the Hybrid can quickly blow up bag after bag with ease.
Highest safety ratings
With over 12 years of research and development and extensive safety testing, German-engineered and built Volcano vaporizers earn the distinction of being medical grade devices.
Efficient on multiple levels
Efficiency can mean different things to different people, and the Hybrid Volcano takes care of them all. The patented bag and valve system captures everything. The bowl can be removed so your herbs don't cook between hits. And the Volcano fully extracts everything you want from your herbal blends, leaving nothing behind.
Foolproof
The Volcano has a long reputation for consistency and excellence. The controls are easy to use, even with a Bluetooth app in the mix. With fantastic temperature stability, your herbs will never combust, and you can dial in the same experience with ease. Hi-tech doesn't have to be complicated.
Hybrid vs Classic: Direct draw, Interface, Bluetooth controls
The Hybrid is replacing the Digit in the Volcano lineup, and the differences compared to the Volcano Classic are significant.
Volcano Classic
While the Volcano Classic was only missing a few features compared to the Digit, it's now a far cry from the Hybrid. The Classic has a narrower temperature band (266° F - 446° F), analog controls, and only blows bags. The Classic does not display the temperature on its analog dial, but instead displays numbers 1-9 and has a chart included in the box, which shows what temperatures the numbers correspond to.
Volcano Hybrid
The Volcano Hybrid has digital controls with a wider temperature band (104° F - 446° F), blows bags and has a direct draw whip. It also has a full suite of controls through the Bluetooth app. The Hybrid delivers slightly more accurate temperature to your herbs with an accuracy of ± 1.5° C / 2.7° F (compared to ± 5° C / 9° F for the Classic). The LED display will show you the current temperature as well as the set temperature.
Hybrid valve set included.
What about the solid valve?
The Volcano Hybrid Vaporizer comes with the Hybrid Starter Set, that works with existing Easy Valve bags and dosing capsules. It requires a different Filling Chamber Reducer than the Classic to use the dosing capsules. While the Hybrid's whip will fit on the Classic's Filling Chamber, it doesn't work with the Classic. The Solid Valve system isn't compatible with the Volcano Hybrid.
What's in the box
1 Volcano Hybrid Vaporizer
1 Power Cord (plug for North America)
3 EASY VALVE Balloons with Mouthpieces
1 EASY VALVE Balloon with Adapter
1 Tube System
1 Filling Chamber
1 Drip Pad
1 Cleaning Brush
1 Air Filter Set
1 S&B Herb Mill
1 Instructions for Use
Technical specifications
Height: 7.1 in (18 cm)
Width: 7.9 in (20 cm)
Weight: 6½ pounds
Temperature range: 104°F to 446°F (40°C to 230°C)
Detachable power cord
Three year Warranty
100% Satisfaction Guarantee
Customer Reviews
Write a Review
Ask a Question
Filter Reviews:
vape
vapor
thing
purchase
price tag
stock
whip
volcano hybrid
delays
06/16/2020
Troy
United States
Great product when it works/ hassle free service no!
Received my 1st Volcano Hybrid the middle of December. Within a few weeks the digital screen became defective. After weeks of waiting it was replaced. Again within a few weeks, the digital screen became defective. After months of waiting Lary requested I ship the defective Volcano back to Planeat of the Vapes. After it was received Solan informed me they had issued a refund on June 1st, 2020. To this day, No refund has been issued and I have no volcano.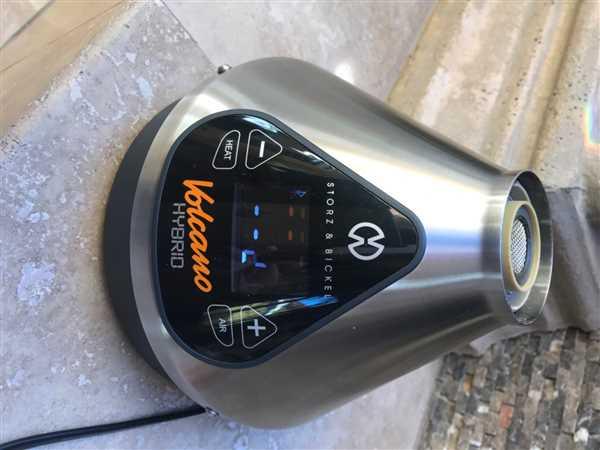 06/18/2020
Planet Of The Vapes
Jumping on this right now for you Troy. You'll be hearing from Solan, our logistics manager first thing tomorrow morning. My apologies, Troy. You've been more than patient with us. We'll get this taken care of for you right away. Regards, Larry
06/08/2020
Ameenah G.
United States
Awesome
Quick response when you contacted them. Overall id shop here again
06/06/2020
john g.
United States
Hybrid
I purchased the Volcano Hybrid due to a friends Volcano Digital model. The Hybrid is so easy to use and has the best flavor and vapor of any vaporizer I have used. The only con I have found is the app for my Samsung is hard to work. I feel there should be a firmware update to make the app easier to use for Andriod. Other that the app problem this unit is highly efficient in extracting your herbs and providing you with a more healthy sessions for your lungs.
Volcano & Great Customer Service
My order was a little delayed due to Covid and all the issues in the world. I may have been somewhat of a pain about receiving my order bc I was so excited, but Planet of the Vapes always got back to me with friendly updates and great customer service. Now to the unit! I love this this thing, the taste, consistency, and clean puff is definitely worth the price. I feel like this was a great investment in my health as a cannabis enthusiast. As a glass collector, I now have an ultimate secondary option in the Volcano Hybrid!
06/05/2020
Joseph S.
United States
Volcano
The Volcano is a no turning back experience. Everything from the ease of use to the overall quality level is guaranteed to satisfied. I have used vaporizers on the past ,but I don't remember them delivering the level of potency that the Volcano brings. I will be a member of the Volcano family for life. A high quality experience for sure.