Go to our Canadian store
Free shipping anywhere in Canada
Buy in Canadian dollars
Order ships from our warehouses in Canada - no delays at customs
Visit Canadian Store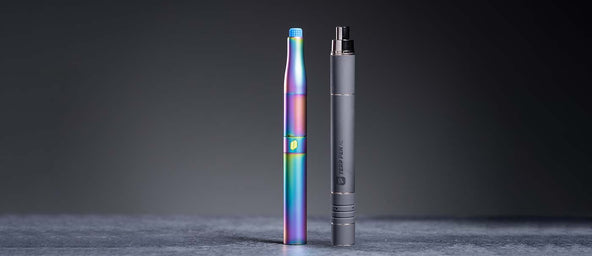 What is a concentrate pen?
Concentrate pens are the easiest way to take quick, potent concentrate hits anywhere. They're called concentrate pens because you load them with concentrate for each hit, and they have the size and shape of a typical pen or pencil. They're not to be confused with pre-filled cartridges that screw onto batteries, or dry herb vaporizers.
What do you put in a wax pen?
Wax pens vaporize just about any dry herbal extract or solid concentrate. Concentrates are usually named after their appearance at room temperature (shatter, crumble, butter, wax, etc.) but they all get slippery once heated. The main distinction you need to make is whether your vape is made for pre-filled cartridges, or for load-as-you-go concentrates. Prefilled cartridges screw on (or magnetically attach) to little batteries, and can be used continuously until they run out. Wax pens require you to load them with your concentrate for each session.
How much does a wax pen cost?
A reliable wax vaporizer will cost anywhere from $30 to $120. Most pens under $70 won't cut it, but our team of experts has handpicked and tested each one on our line. Expect to see improvements in performance and eye appeal as the price goes up.
What is the best wax pen?
For superior taste and ease of use, we like the Puffco Plus - it's been a market leader for years. If you want something more robust, but techy, check out the Sai. It's a vapor nerd's dream with countless options. To try something a little different, take a look at the Terp Pen XL.
How to clean a wax pen?
Wax pens contain only a few parts, so cleaning is pretty straightforward. The mouthpiece and heater can soak in rubbing alcohol to remove tough residue and then set out to dry. Once they're completely dry, throw the pieces back together and you're good to go.