Go to our Canadian store
Free shipping anywhere in Canada
Buy in Canadian dollars
Order ships from our warehouses in Canada - no delays at customs
Visit Canadian Store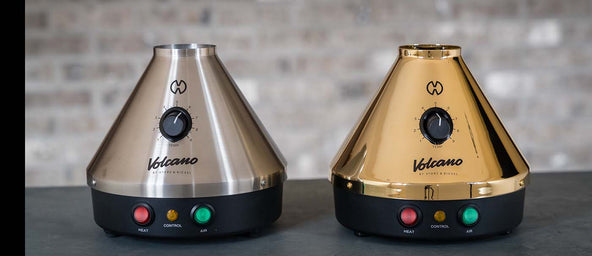 Best Desktop & Tabletop Vaporizers
Desktop Vaporizers
If you mostly vape your dry herbs at home, or want richer vapor production than a portable vaporizer can muster, you should strongly consider a tabletop vaporizer. With the power of the grid at its disposal, a strong heating element, and a bigger bowl that holds more herbs, a desktop unit pumps out tasty, thick vapor that can satisfy the biggest appetites, or power the party. All of the desktops on this page have proven themselves for over ten years, and are solid choices for the serious vaporist. Whether you go for an affordable Arizer, or a top-shelf Storz & Bickel unit, you'll be amazed at how potent vapor can get.
Storz & Bickel Volcano Hybrid Vaporizer
Storz & Bickel started it all, back at the turn of the millennium, with a convection bag blower that is still considered to be one of the best desktop vaporizers on the market, almost 20 years later. The Volcano Hybrid simply gets it done right, every time, with a consistent fan speed, and solid temperature stability. Its perfect easy valve system lets you blow up a bag and take it anywhere, somewhat making up for being tied to an outlet.
The Volcano Hybrid adds a whip option with a flat mouthpiece, a bluetooth app, and a mix of conduction and convection heating for thick, consistent vaporization. With precise temperature controls, and a minimal learning curve, the Volcano Hybrid is a fantastic option for the long haul.
Storz & Bickel Volcano Classic Vaporizer
From German engineers, the Volcano Vaporizer is one of the most popular desktop vaporizers on the market. Sessions are high quality, it's easy to use, and it's ultra efficient. Whether you choose the analog temperature control of the Volcano Classic or the feature-rich Volcano Hybrid vaporizer, you'll have one of the best vaporizer experiences available. It's a great choice for both the beginner and enthusiast alike.
The Plenty Vaporizer by Storz & Bickel
In 2008, Storz & Bickel answered the call for a top-shelf dry herb vaporizer with direct-draw, instead of bags. The Plenty vaporizer uses a heater similar to the Volcano's, but in a hand-held form-factor that's easy to pass around on the couch, albeit with clunky controls. The vapor will taste better at the beginning of a session, and worse at the end, compared to a bag that blends the session's vapor into one taste.
Arizer Extreme Q Vaporizer
Arizer's Extreme Q is a versatile, do-it-all vaporizer at a budget price. With balloon bags and direct draw, it's perfect for beginner vapers that want to try a little of everything, and the vapor is anything but cheap. The Extreme Q has a ceramic heater and lots of glass parts that bring out the natural flavor of your herbs. If you like tons of features, this vape is unmatched, with a remote control and mood lighting on the bottom. The Q doesn't have a bag valve system, needs a decent amount of counter space, and its temperature stability is subject to wide swings, so consider the Volcano if these are deal-breakers for you.
Arizer V-Tower
The Arizer V-Tower is perfect for the budget-shopper that only wants a direct-draw desktop vaporizer. It has the same heating system as the Extreme Q, but without all the bells and whistles, and without a fan, so it doesn't blow bags. The V-Tower is a great way to step up to tasty, thick vapor without dipping into your savings.
Arizer XQ2 Vaporizer
The Arizer XQ2 desktop vaporizer - a hidden gem for those seeking the ultimate vaporizing experience. Whether you prefer the convenience of a balloon system or the direct satisfaction of hitting from a whip, this device delivers it all. With its advanced features including full digital temperature control, both on-board and remote controls, and even an eye-catching light show, the possibilities are endless. Crafted with pure, top-notch materials and offered at an unbeatable price, your taste buds and wallet will surely give their stamp of approval.
Ditanium
The Ditanium is a whip-style vaporizer with full convection heating and can serve as your dedicated e-rig/e-nail. With only high quality materials like titanium, quartz, stainless steel, and glass in the vapor path, hits are flavorful and potent. The Ditanium comes with a hands-free glass wand that serves as your heating chamber and keeps your herbs safe from the hot air - it doesn't cook between hits when the wand is removed. The titanium mouthpiece on the two-foot long silicone whip adds a touch of class . The Ditanium's concentrate rig feature is best used with herbs at the same time. By itself, it's good in the middle of the temperature range, but suffers at the low and high ends.
EpicVape E-Nano XL Vaporizer by Epickai
The E-Nano XL desktop vape by Epickai is for larger appetites that want to dabble with an at-home microdoser. It comes with a larger heater and larger glass stem bowl than the original E-nano, for bigger, thicker hits. The XL also features other improvements to the build, temperature dial, power cord, and more. With all day power and accessories like the water pipe adapter, the E-Nano XL could be a fit for anyone.
EpicVape NXT E-Nano Vaporizer by Epickai
The NXT E-Nano is great for microdosing and is the perfect at-home vaporizer for small hitters who want a simple yet effective vaping experience. It's a small dry herb vaporizer but it works very well with different load sizes. It chugs out satisfying hits with loads as big as .25g, but it excels with smaller loads going all the way down to .02g!
Dektop Vaporizers FAQ
What are the benefits of a desktop vaporizer?
The primary benefit associated with desktop vaporizers lies in their remarkable potency, efficiency, and nonstop power. Each desktop vape plugs directly into a power outlet for limitless, nonstop sessions. With this kind of power, your herbs are heated thoroughly and efficiently for an unrivaled vaping experience with dense, flavorful clouds.
What are the two types of vaporizers?
In the vast world of vaping, there are two primary categories that you should acquaint yourself with: desktop and portable vaporizers. While both types serve to satisfy your vaping needs, each comes with its unique features catered to specific usage scenarios.
Portable vaporizers, as the name suggests, are designed for those who seek mobility and convenience. These devices can range from the size of a USB stick to something that fits snugly in the palm of your hand. Despite their varied dimensions, they provide a seamless experience for users who prefer to vape on-the-go, but oneed to be changed when the battery runs low.
On the other hand, desktop vaporizers are geared towards those who plan to enjoy their vape sessions within a fixed location, such as their home or designated vaping area. While you can't take desktop vaporizers anywhere you want, these vapes cater to enthusiasts of dry herb or concentrate consumption, offering uncompromised quality in every puff.
How do tabletop vaporizers work?
Desktop vaporizers plug directly into a wall outlet to power your sessions. A confined heating element heats up to create vapor as you inhale. Some use a fan to blow the vapor through a whip and into your mouth, while others fill up a bag full of vapor or have a mouthpiece that you directly draw from. Each desktop vaporizer has an on and off switch, controls to set your preferred temperature, and additional customizations to enhance your experience.
We work closely with all major brands and manufacturers and always carry the latest models at the best prices. Most of our vaporizers are covered by a manufacturer warranty as well as our 100% Satisfaction Guarantee. If you have any questions, our vape experts are here to help. If you have any questions, our vape experts are here to help.