**The Volcano Hybrid vaporizer has some features only accessible via a smartphone app. On November 15th, 2019, Apple removed all vaporizer apps from its store. Apps that were downloaded before removal will still work. Android users are not affected. Please read our blog post to learn more about the app removal, and how it affects specific vaporizers.**
Storz & Bickel updated their flagship Volcano vaporizer, and we wouldn't blame you if you only noticed the new whip. The Volcano Hybrid looks like the old classic, deceptively hiding a lot of new tech under the hood, but there's more to this baby than just a new delivery option. If you can stomach the price, the Volcano Hybrid combines legendary performance with features you can't find anywhere else.
Serious price tag
We might as well get this out of the way now - this is a $700 vaporizer. It's one of the most expensive vaporizers we've ever come across. You're either the type of person that spends that kind of cash on a vape, or not, and nothing we have to say will change that. To be fair, the Hybrid only cost $100 more than the Volcano Digit that it's replacing, and the improvements are notable.
Consistent excellence
When you buy Storz & Bickel, you're getting the luxury car of vaporizers. The Volcano Hybrid delivers top-shelf performance, every single time, in a durable design that will last for many years. Whether you want to vape a little or a lot, dry herbs or concentrates, alone or with friends, you'll have everything you need for impressive vapor. You'll also vape at ease, knowing each component was designed, and each material chosen, to meet medical specifications, receive electrical certifications, and pass manufacturer testing. Storz & Bickel thought of everything, down to the accessories, so all you have to do is enjoy your herbal blends.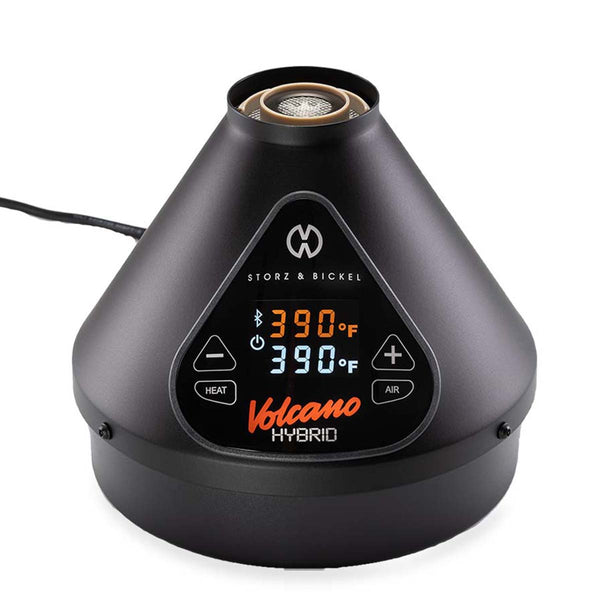 $524.25 Regular price: $699.00
This is how you improve on a 20 year classic!
Blow bags or use the whip
Quick heat up
Medical grade construction
Smartphone app to customize
Programmable features
Digital temperature control
Use code S&B20 for 20% off!
SHOP NOW
Free Shipping
Easy Returns
World Class Customer Service
A fantastic whip
The most obvious change incorporated in the Volcano Hybrid is the whip. If you previously passed on a Volcano because its only delivery option was bags, those days are over. This whip hits with the best of them, easily kicking out tasty clouds. The airflow is open and comfortable, and if you want to hit it even harder, just turn on the fan for an assisted hit. The whip swivels on top of the loading chamber, so it's easy to pass around, and the whip is the perfect length for cool, tasty vapor. The silicone tubing is perfect - not too stiff, and never kinks.
The whip can be purchased separately for $25, but it doesn't work well on older Volcanos. It fits the easy valve loading chamber, which doesn't secure tightly to the Volcano, and easily pops off when passing around. Without the added conduction heating from the Hybrid, we only got satisfying hits using it with the pump, and overall it's awkward on older models.
Updated heater
You'll probably never see it, but the Volcano Hybrid has a redesigned heat exchanger that's quicker and more efficient than the original. It now heats up in under two minutes, and takes 35 seconds to fill a bag.
Another significant change adds conduction heating to the mix. There is a metal ring on top of the Hybrid vaporizer that gets hot, and directly touches the installed loading chamber. The loading chamber gets hot, and preheats the herbs so they quickly vaporize when you use the whip or turn on the pump.
Don't miss the significance of this change. Storz & Bickel leads the vaporizer industry when it comes to laboratory testing, and they've changed the style of heating on their flagship vape. They must believe hybrid heating is more efficient and easier to use than pure convection, to change such a successful vaporizer.
Quick heat up time
Storz & Bickel says the Hybrid heats up in one to two minutes, and our unit never took longer than 90 seconds to reach any temperature. This is a huge improvement over the three to six minute heat up time of older Volcanos. The Hybrid has one of the fastest heat up times of any desktop vaporizer, and is usually ready by the time you've prepared your loading chamber.
Feature-rich smartphone app for Android
**On November 15th, 2019, Apple removed all vaporizing apps from its store, including this Storz & Bickel app. It might not be permanent, but we are planning on an extended absence. The Volcano Hybrid works fine on its own, but can't be customized with the app on an iPhone, unless it was downloaded before November 15th. Android users still have access to the app.**
The new Storz & Bickel smartphone app (App Store, Google Play) controls both the portable Crafty vaporizer and the Volcano Hybrid - one app for two vapes! The app is very easy to use with four tabs - one for the main controls, another for tweaking deeper settings, a third to monitor the vaporizer's status, and an information tab to access manuals, help, and shopping pages.
The first thing we did was change the shutoff timer to six hours. We were also able to adjust the display brightness, and change the alerts on both the Hybrid and our smartphone. But what really has our neurons firing are two new programming features Storz & Bickel calls "Workflows" and "Iterations".
Take a look at Storz & Bickel's Web App!
New programming features
The Hybrid comes with some programming features that will change the way you vaporize, once you learn how to use the Workflows and Iterations. With little documentation on the app, we dug in deep and fell in love with these new programming features, which let you set up any number and combination of three commands -- heat, blow, hold -- to tailor your sessions to your personal style.
Iterate on your session
Iterations let you organize a set of commands that will repeat until a predetermined time is reached, and appear to work best with the whip. For instance, if you like to start your whip session on 390°F and increase the temperature in 10°F increments over a half hour, there's now an app for that. Just set it up, hit the play button, and enjoy the whip without thinking about the session status. Once you've settled into a groove with the Hybrid, automate it!
Workflows are a vapor nerd's playground
Workflows are sets of commands that play through once, and then stop. You can program the Hybrid to heat to any temperature, say 350℉, then hold for one minute and blow a bag for 35 seconds, before increasing the temperature to 390℉ and holding again. Storz & Bickel most likely built these programming features to help with medicinal dosing, but they're heaven for vapor nerds that like to play around.
We took advantage of the Hybrid's Workflows and quick heat up time to blow a single bag like never before, with extra taste and punch. Our favorite Workflow so far heats up to 340℉ and blows for several seconds, then heats up to 390 and blows for 15 to 20 seconds, and finishes off at 420℉ for a final few seconds. As long as the total blow time stays under 35 seconds, you can customize this profile for more taste and less punch, or vice versa. Let us know your favorite custom profiles in the comments below!
Dry herbs and flower or concentrates, big or small
The Volcano Hybrid vaporizes any dry herbs or concentrate you want, no matter the dose. Its large filling chamber can vaporize up to a half-gram of dry herbs, or any concentrate you throw at it using the stainless steel mesh pad (not included). If you want to vaporize less, sprinkle your herbs in the chamber and cover them with the mesh pad so they don't move around. For loads as small as 0.1 grams, the filling chamber reducer lets you use their standardized dosing capsules. The dosing capsules fit all Storz & Bickel vaporizers, so you can start vaporizing at home with the Volcano, and transfer the capsule to a Crafty to finish on the road.
Out with the old, in with the new
The Volcano Hybrid is replacing the Volcano Digit in the catalog, and we're no longer forced into the Volcano Classic if we don't like shutoff timers. While the Hybrid does have a shutoff timer, it's adjustable from five minutes to six hours, with the bluetooth app. But more importantly, with a 90 second heat up time instead of six minutes, the inconvenience of a shutoff timer is now a moot point.
Rare, easy maintenance
The Volcano's design is one of the easiest to maintain. With nothing more than brushing off the screens after each bowl, you can expect to use it daily for months without a deep cleaning. Disposable bags make cleaning an afterthought. If you want to do more for the environment, the Hybrid includes one balloon with adapter, so you can change out bags without throwing away a perfectly good mouthpiece.
Dimensions
Height: 7.1 in (18 cm)
Width: 7.9 in (20 cm)
Weight: 6½ pounds
Warranty
Storz & Bickel covers any workmanship and defect issues with the Volcano Hybrid for three years. Like all of our products, the Volcano Hybrid vaporizer is covered by our 100% Satisfaction Guarantee.
box
What's in the box
1 VOLCANO HYBRID Hot Air Generator
1 Power Cord
3 x EASY VALVE Balloon with Mouthpiece
1 EASY VALVE Balloon with Adapter
1 Tube System
1 Filling Chamber (including: 1 Cap Ring, 1 Normal Screen Set, 1 Cleaning Brush)
1 Air Filter Set
1 Herb Mill
Instructions
For best results with Volcano Hybrid
The Volcano Hybrid provides a large, safe playground to find your vaping style. You can change a lot of variables without fear of combusting your herbs. The best tip we can give you is to read the manual. It's the most complete vaporizer manual we've seen (despite the lack of information on the smartphone app), in six languages, and sets a great baseline to start at. From there you can confidently change things like the grind, pre-heat, programming and settings.
That being said, here are some tips not in the manual:
At launch, there appears to be a bug in the app programming, in the Iterations, under Heat settings. The Fahrenheit temperatures listed are incorrect, and confusing. If you're going to play with Iterations before this bug is fixed, make sure the temperature is in Celsius, where there is no bug. Tap the "+" and "-" buttons simultaneously to toggle the scale.
When the filling chamber is on the Hybrid, your herbs will heat up without the fan on, due to the added conduction. It will cook your herbs, even with the fan off, if you put a full filling chamber on and walk away for a while. Once you get the hang of it, you can use this to your advantage and tailor your sessions. If you like the earthy tastes from a darker roast, give the filling chamber a longer heat soak by leaving it installed between hits. Or, if you prefer lighter, more floral tastes, keep the filling chamber off the Hybrid except when hitting the whip or filling the bags.
Okay, this one's in the manual, but it's buried in section 7.4, and we use it a lot so it's worth pointing out. The Bluetooth on the Volcano Hybrid can be toggled on and off by pressing the "-" and "AIR" buttons simultaneously. Thanks S&B!
One of the great things about vaporizing is the variables you can change to find your favorite experience, and the Hybrid gives you a lot to explore. There's no "best way" to vaporize, just what's best for you. Don't be afraid to change things up and have fun playing!
What temperature should I use for the Volcano Hybrid?
That depends on what you want! For daytime use, set your Volcano Hybrid vaporizer to something between 330F and 370F. For nighttime use and more sedative effects, turn the temperature up to 390F or higher. The vapor will be thinner and tastier at the lower temperatures, and thicker at the higher ones.
Is the Volcano Hybrid worth it?
That's a good question when a vape costs $700! The Volcano Hybrid vaporizer is worth it if you prize potent vapor, lots of features, and durability. It's made by Storz & Bickel, so it has the pedigree and should last for years.
Who is the Volcano Hybrid for?
The Volcano Hybrid is a high-priced, top-quality vapor factory that easily satisfied our vape connoisseurs. Those first whip hits from a full, fresh bowl burst with flavor, and the bags can wander with you around the house. If you're looking for a desktop vaporizer, the Hybrid has to be considered. With proven durability, medical grade components, multiple delivery options, top-shelf performance, and unheard of programming features, what's not to love? Oh yeah, the $700 price tag.
Who is the Volcano Hybrid not for?
With a $700 cover charge, this is a party a lot of us won't get into. There's nothing about the Hybrid that will disappoint, but you can get a lot of good vaporizers for $700 that will arm you for any situation. For instance, if you clicked around planetofthevapes.com, for $700 you could end up with the following vaporizers in your cart, instead of the Volcano Hybrid: Arizer Extreme Q, Pax 3 Complete Kit, the POTV ONE, EZSai Kit, and a Vapcap M w/lighter.
Is the Volcano Hybrid still the best vaporizer?
We don't believe there is a "best" vape for everyone, but the Volcano Hybrid vaporizer might come the closest. Built on a 20 year legacy started by the Volcano Classic, the Hybrid is easy, reliable, and consistent. With new heating technology and a suite of features, and this vape is hard to compete with.
Our take
The Volcano Hybrid is one of the finest vaporizers on the market. It has the pedigree, performance, and feature set of a long-time hit. With fewer desktops on the market today, a Volcano with a faster heat up time, and a whip, is a welcome sight! We're confident the Hybrid can satisfy anyone who decides to get one, but we're curious to see how many of you will make the plunge.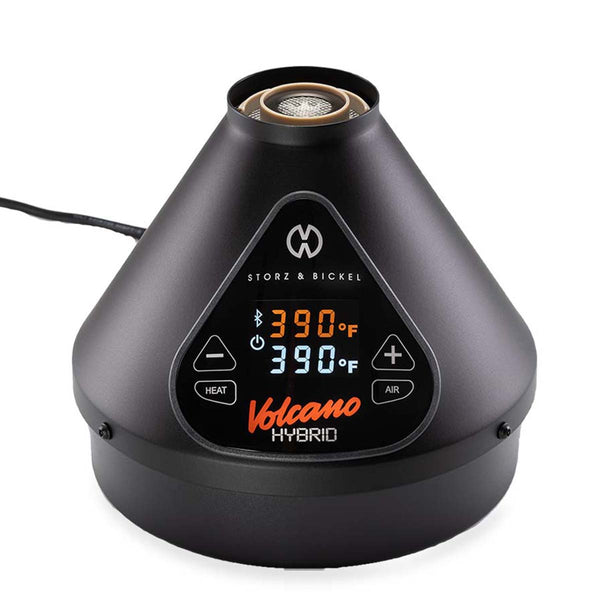 $524.25 Regular price: $699.00
This is how you improve on a 20 year classic!
Blow bags or use the whip
Quick heat up
Medical grade construction
Smartphone app to customize
Programmable features
Digital temperature control
Use code S&B20 for 20% off!
SHOP NOW
Free Shipping
Easy Returns
World Class Customer Service