Shop with the most trusted vaporizer store
CCELL Silo Cartridge Vaporizer
When it comes to refillable concentrate vape pens, CCELL leads the way with breath-activated batteries that are some of the smallest available. The cartridges are made of inert materials, like a glass housing and ceramic wick and mouthpiece, to deliver pure flavor. The wickless design can vaporize thick or runny oils.
The CCELL Silo battery has a comfortable aluminum alloy housing and an incredibly small size. Forget clumsy buttons and settings - all you do is inhale from the mouthpiece for thick, comfortable vapor in an instant. The CCELL Silo mates perfectly with CCELL cartridges, like the TH2 or M6T, but the 11mm wide chamber won't fit anything bigger.
If you're looking for a refillable portable vaporizer for concentrates, the CCELL system is as good as it gets. The modular system offers different sizes and looks, and the quality is top-notch. With very affordable pricing, this is one of the few times it doesn't pay to get anything less than the best.
What's in the box
CCELL Silo Vaporizer
2 x Magnetic Adapters
Micro USB Charging Cable
Please note: Cartridge mouthpiece (as pictured) is not included.
Technical specifications
Battery capacity: 500mAh (200+ puffs per charge)
Height: 2.5" (63mm)
Width: 1.15" (29mm)
Depth: 0.7" (18mm)
Weight: 1.7oz (48g)
Warranty: 1 year (manufacturer warranty)
100% Satisfaction Guarantee
Customer Reviews
Filter Reviews:
taste
battery
Example
pocket
customer service
vaporizer
reason
silo
black
half
10/28/2019
Kristi G.
United States
Bad Vape/Great Customer Service
I recently bought the Ccell Silo vaporizer in black, because I have another one and love it. The one I received was defective and wouldn't allow you to smoke off it. I contacted POV customer service and was I must say, the customer service is outstanding. I was able to send the one I got back for an exchange. I am currently waiting for the new one to come in. I will post another review once I get the new one in. GREAT Customer Service and will order from the company again.
10/23/2019
Alvaro
United States
Just Perfect!
This battery is awesome. Its discreet, looks and feels great, its set at a perfect temperature, produces great taste and vapor. I would highly recommend.
10/15/2019
Pete R.
United States
Awesome
I bought this to use for my medicinal ccell carts from my local dispensary and it hits different then my mini mod with adjustable voltage which is what I was using them on before. I made sure I adjusted the wattage so I always fired at 3.6v or less and never had an issue with a cart. But I wanted something that protected the cart as well instead of having it sit on top and risk cracking in half. Super easy to medicate at work with this or even when out and about. Fits in the palm of my hand or the change pocket (tiny pocket) in pants so even if I had to hide it for whatever reason (boss for example) I can easily conceal it.... until I exhale and cough up a lung haha. Definitely recommend this for the price and gets a lot of compliments of how small and concealable it is compared to standard pen style batteries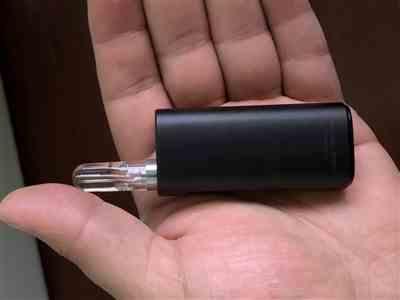 08/06/2019
Ryan T.
United States
Awesome vapor
I love it. It's small and yet so effective and simple. It's a little bulkier than Palm (think Silo as if Palm is folded into half) but it's perfect for me.