Go to our Canadian store
Free shipping anywhere in Canada
Buy in Canadian dollars
Order ships from our warehouses in Canada - no delays at customs
Visit Canadian Store
Shop with the most trusted vaporizer store
Who's the Mighty for?
The Mighty vaporizer is a great choice for those looking to carry first-class vapor quality around with them. It boasts great battery life, and an extremely durable, high-quality construction from a trusted manufacturer. It doesn't quite fit in your pocket, but it's easy enough to throw in a bag or purse, so you don't ever have to sacrifice on experience, no matter where you go.
Unparalleled performance
The Mighty delivers unrivaled vapor quality from a portable vaporizer. A large heat exchange ensures consistent heat and ideal convection vaping. As the oven heats up, it will provide some conduction heat later in the session, for a full extraction and tasty draws.
Portable, not pocketable
Though the Mighty is a portable vaporizer, it's a little too big for most pockets, although it's easy to throw in a purse or bag. It's better to think of it more as a convenient, cordless vaporizer for home use. It's about twice the size of the Crafty, which gives you room for full on-board controls.
See our Mighty vs Crafty comparison for a full breakdown of the differences between these two portable vapes by S&B.
Battery & power
The Mighty delivers 90-120 minutes of vaporization on a full charge, just about double the capacity of the more pocket friendly Crafty. That's a strong showing for the category, even considering the Mighty's size.
Medical grade materials
Storz & Bickel takes great pride in their material selection, and it shows in all of their products. The Mighty is made without any glass, so it's extremely durable, and none of the parts will let off any hazardous or odorous fumes or materials when heated. If you're concerned about material safety, the Mighty and its siblings are made with medical grade materials and are backed by numerous safety certifications.
Warranty
We're authorized dealers of the Mighty vaporizer, so if you decide to buy your Mighty from us, you are backed by a two year manufacturer's warranty against defects. As with all vaporizers purchased from Planet Of The Vapes, you're also covered by our 100% Satisfaction Guarantee.
What's in the box
Mighty Vaporizer (latest version)
Power Adapter
Liquid Pad
Spare Screens
Cleaning Brush
Herb Grinder
Filling Aid
Spare Seal Rings
1 Dosing Capsule
Instructions
Technical specifications
Height 5.5 in / 14 cm
Width 3.2 in / 8 cm
Depth 1.2 in / 3 cm
Weight .5 lbs / 230 g
Dual 2668 mAh Lithium-Ion Batteries
104° F - 410° F (40 - 210° C) Temperature Range
100 - 240v Power
Made in Germany by Storz & Bickel
2 Year Warranty
Customer Reviews
Write a Review
Ask a Question
Filter Reviews:
vape
battery
money
vaporizer
mighty
device
experience
planet
purchase
penny
07/01/2020
Michael
United States
After 2 weeks of full use
To be real been smoking since high school and now we have technology to make it easier but that isn't always better. This Mighty is the top dog, over the years of Volcanos and vaporizers this one really does make it easier and is so much better for getting me baked or helping with a migraine. The amount you use in the dosing caps with the output is amazing. I currently went to the club and got vials with 2g of herbs and already to pour in and one dosing cap did me in. This vaporizer is top for me because i have had the FF and Arizer which are great vaporizers but when you want something with extra power without it being a desktop this is your boy. In the future I will be buying the Crafty for mobile trips and keep the Mighty for home usage. If you buy one of these units you will not be disappointed but get the dosing caps to keep it cleaner in your chamber and mouthpiece. Dosing caps can have shake or a whole bud broken by hand. I recommend buying the 8 pack and 40 extra pack that way after a few uses you can separate them and clean them in some ISO for 30 mins than use water and will be brand new.
06/25/2020
J. Cowley
United States
A Mighty fine investment!
Full disclosure: I'm by no means a dry herb vape expert. In fact my vaping experience has been limited to the FireFly2+ prior to my Mighty purchase. With that said, the Mighty is a powerhouse of a vaporizer! Pros: -It's dead simple to use, especially with the dosing capsules. Load material, power on, wait for the heat up cycle and you're good to go. You will be rewarded with consistently dense clouds of cool vapor, pull after pull. This machine is a vaporizing beast! Very little draw resistance and zero learning curve!! Changing temperature settings is a breeze. No app required! -Flavor - Coming from a FF2+, I wasn't expecting the Mighty to be able to compete in this department. I was wrong! While the FF reigns supreme in this category, the margin is extremely slim. The Mighty produces vapor that's nearly as flavorful as the FF. -Battery Life - A full charge will last nearly a week of light daily usage. -Vapor Quality - This is the Mighty's strongest selling point IMO. The vapor is consistently dense, cool and flavorful from the start of the session all the way through until the end. Cons: Size - The Mighty is heavy and bulky. It's portable, but don't expect to be carrying it around in the pocket of your skinny jeans. Heat up Time - Coming from an on demand vape, the heat up cycle on the Mighty is comparatively slow. It takes well over a minute to heat up depending on your temperature settings. There are better vapes for micro dosing than the Mighty. Dated - Design wise, the Mighty is a bit long in the tooth. It uses a standard DC charging port which feels a bit archaic. There are other session vaporizers that heat up significantly faster than the Mighty. It could use an update. Maintenance - The cleaning is fairly simple but more involved than I'm used to. That said, the dosing capsules keep the chamber looking spotless! Stealth - The Mighty isn't the stealthiest vape on the market. Between it's size, heat up time and conduction/convection heating tech, the Mighty may not be the best choice for those requiring stealth. It's also worth noting that the odor is a bit more noticeable than what I'm used to with the FF. Conclusion - Bite the bullet and buy this vape. You won't be disappointed. The cons are a small price to pay considering the performance. It's expensive, but definitely worth the cost! Lastly, the customer service at POTV is amazing. These guys are the best! For size comparison I'm including a side by side with my FireFly. Cheers!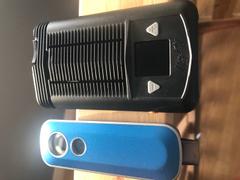 06/18/2020
Nathan R.
United States
Best investment.
Owned my Mighty for over a year now. Just purchased one for my mother in law. Battery lasts forever, gives excellent vapor and flavor. Cleaning is super simple. Highly recommend getting the dosing capsules for when your out and about. Couldn't be happier with my purchase. I've had ZERO issues.
06/17/2020
Michael V.
United States
Communication creates loyal customers!
After trying to order this product from multiple online stores and each of them did not inform me of anything while keeping my money! Planet of the Vapes was the first and frankly the only store to email me and communicate with me about the delay. For this reason I will become a loyal customer. The Mighty is an excellent product. This is my second Mighty and I keep getting this one because of the various temp changes and control. You can tell it's made very well. The only downside is the charger which Storz will replace for free if you contact their website. Probably the best vaporizer, and in my opinion!
06/14/2020
Robert D.
United States