Get ready for the next thing in vaporizers: the Bowle by Tafée, from Canada. This exceptional portable vaporizer will blow your mind and quench your thirst! With this on-demand vape you can take a hit, take a sip, and take another hit without any distraction. Don't miss this review, or you might miss an incredible vape.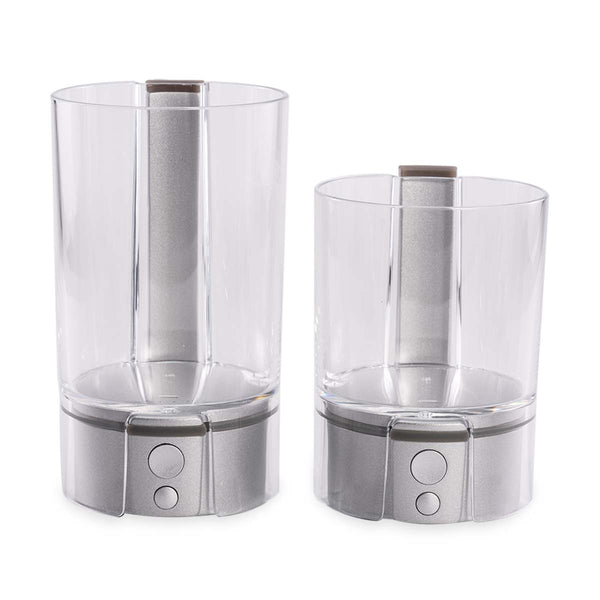 $369.00
The Tafee Bowle pairs your favorite beverage with top-shelf vapor.
Ridiculously smooth vapor
A vape and cup in one
Full convection heat
Instant heat up
Blends into your lifestyle
Vape at your own pace
SHOP NOW
Free Shipping
Easy Returns
World Class Customer Service
The Tafée Bowle Review: Top-shelf vapor
This is where the Bowle truly shines. It doesn't cook your herbs between hits, so each draw is as full and flavorful as possible. Built with inert materials, all you taste are your herbs. The long mouthpiece easily cools the vapor to the point of deception. Many times I'd take a hit that felt too comfortable to have much impact, only to exhale a monster cloud. This is true on-demand, full-convection vapor at its finest, with all the taste and none of the waste!
Drinkware: vape without intrusion
Why pair drinkware with a vaporizer? I think a better question is, why not? After all, I drink water or tea every time I vape. Don't you usually drink something when you vape?

It turns out, we're always drinking, and the Bowle naturally brings vaporizing into anything we do, without intrusion. Try it out the next time you have a casual talk with someone. I found I could talk, drink and vaporize without breaking up the conversation, or moving into a room that had a vape. The drinkware, paired with an on-demand vape that requires no attention, is brilliance at work!


There are things to consider with the drinkware, though. I like hot tea, and boiling water can damage it. I found hot drinks were fine, just not boiling hot. Condensation can build on cold drinks, but the buttons can handle minor splashes and drips. Condensation doesn't build underneath the drinkware since it's airtight. If travelling with the Bowle, it's best to use the box it came in. I threw it in my backpack unprotected, and developed cracks from the beating it took.
Decent battery life
At first glance, battery life seems a little on the short side, but when compared to other on-demand convection protables, it's decent. A very rough guideline for the Bowle's battery life is about four loaded bowls, or 25 hits. But don't take that as gospel - these kinds of vapes are notoriously hard to evaluate by battery life. Everyone's hit is a little different and creates unique demands on the battery.
The Bowle charges via a micro-USB port located on top of the puck (the base unit), or underneath the drinkware. To charge, remove the drinkware and plug it in. A full recharge took about an hour with the supplied charger, which brings up an important point. The supplied charger is a Qualcomm quick charger that works better than any other charger I have, and comes with a long six foot cable - use it with your other electronics. The Bowle took more than twice as long to charge on a standard charger.


The Bowle also has pass through charging, so we can vape while it charges. It will need nearly half a charge to perform at full speed, since each hit is a considerable draw on the battery. The Bowle's power management shuts the vape down with 25% left in the battery, which prolongs overall battery life and brings consistency to every single hit.
Award winning build quality
The Bowle is beautiful, and has already won several design awards. But it's also built as well as it looks. The vaporizer portion sports an all-metal exterior with a sandblasted silver look, and two inconspicuous buttons located up front that can be differentiated by just feel alone. The smaller, convex button below selects the temperature, while the larger, concave one above turns the heater on and off.
The drinkware itself is plastic, specially molded to fit the Bowle's puck. The plastic doesn't cheapen the feel for me. A glass version would be heavier and much more expensive. But it's not out of the question - the manufacturer has other types of drinkware in mind later on.
The white ceramic bowls, called pots, are inert and add nothing to the taste. The vapor path is all ceramic and metal, except for a silicone mouthpiece at the cool end. I already mentioned the high quality charger included. This vaporizer is solidly built, and feels like it. It's not water-resistant, by any means, but can handle the occasional spill or splash.
Hits as easy as a vape pen
Ever had to wait for a vape to heat up? Of course you have - we all have - and it can suck! But that can be a thing of the past. The Bowle is ready in one second. I didn't even know that was possible for a dry herb vape, but there it is, instantly blinking green and taunting me to take a hit.
After you've loaded a pot and selected your temperature, the hit couldn't be easier. Press and hold the upper button while you hit it, and release when done. Technically, you should wait for the lights to turn from blue to green before you take a hit, but it all happens too quickly. It's so fast, in fact, that when I suggested they make it breath-activated, they added another feature. Instead of holding the button in during the hit, you can just tap the button and start hitting it. The Bowle will sense your breath and shut down when you stop. Whichever way you go, you won't wait for it!
Built for herbs, great for concentrates
The Bowle has four temperatures for herbs, and the upper one is also great for concentrates. The lower two temps are where the flavor chasers live, but with surprising clouds. The third temperature is where most will probably finish off a bowl of dry herbs, while some of us take it to the top temp.
While the Bowle doesn't come with any accessories for concentrates, it's easy enough to make it work. The easiest method is to add some concentrates to a bowl of dry herbs, for super spiked hits! Another way is to load concentrates on a stainless steel mesh pad. None are made for the Bowle, and the Storz & Bickel pads are too big, but the mesh pads for the POTV ONE can be reformed to fit in a couple minutes.
Temperature setting four on the Bowle works great with concentrates, and is more than enough to power spiked sessions without burning the herbs. I'll be surprised if we don't see a specially-made accessory for concentrates at some point.
Thoughtful accessories included
The Bowle has a real stir tool - not just a stick you can wiggle around - that stows away in any one of four holes on the bottom of the puck. The scoop-shaped end stirs the pots. The butt end is flat shaped, and is perfect to push the pot screens back down into place, and for tamping the load in a full pot.
Each Bowle also comes with a plastic grinder with four additional pots. As you grind, herbs fall through into the four pots below. Give the grinder a gentle shake and tap, about half way through, to fill the pots all the way up. It can also be configured as a funnel loader to fill one pot at a time. It's plastic, but works really well, and you can upgrade to an aluminum grinder, if you wish.
No vape is perfect
There's no such thing as a perfect vape, just the best vape for the person and situation. The Bowle is already one of my favorite portable vapes, but there are a couple things I would change.
Convection portable vaporizers are very hard on batteries, so my complaints are centered around the power. I'd love longer battery life. The four to five pots I get per charge are good for most, but my usage is on the heavier side. I'd like to see USB-C on everything instead of micro-USB, and I don't like taking off the drinkware to charge. I see why the charge port is located where it is, but I'm still not a big fan. It almost screams for a wireless solution.
Warranty
Tafée covers any workmanship and defect issues for two years. Like all of our products, the Tafée Bowle is covered by our 100% Satisfaction Guarantee.
What's in the box
Puck Base Unit and Stem (Tall or Short)
Drinkware
Potter+ Herb Shredder
Ceramic Oven Pots (4)
Two Mouthpieces (Extended and Flat)
Quick Charge USB Adapter
Charging Cable
Maintenance Kit (two brushes)
Quick Start Manual
For best results
We'll have our Tips and Tricks article out very soon, with quite a few tips in there for you, but for now, take advantage of the stir tool for tamping. Don't pack it hard, just tamp it down a little bit. The herbs will vape more evenly and taste better, longer.
Easy maintenance
Our Cleaning and Maintenance Guide is coming soon, but until then, make sure to brush out the pots when you're done. Too often I set it down and forget, only to later find the herbs stuck in place. It also gets the screens dirty a lot quicker. When you're done, just dump the herbs and brush out the bowl.
Who is the Tafée Bowle for?
The Tafée Bowle is for anyone who vapes and drinks, and can spring for it. The vapor is the pinnacle of portable performance, and is a must have for the serious vaporist. It's on-demand vapor the way it was meant to be - thick and tasty - without any of the waste or fuss. The Bowle is the first on-demand vaporizer that's a joy to share, because it's so consistently excellent, no matter the style.
Who is the Tafée Bowle not for?
The Bowle is not for those on a budget. It's one of our most expensive vaporizers, portable or desktop. While it's portable, and arguably stealthy, the Bowle is not pocketable, limiting where you can go with it. I'd say it's not for those that can't get over the drinkware feature, but don't let that stop you. You just might find you wish all your vapes had drinkware!
Finally, Tafée is a new company, and the Bowle is their first offering. If being an early adopter makes you nervous, give this one a little time.
Our take
I had the privilege of beta testing the Bowle for over a year before its release, so the newness has long since worn off, but it's still easily one of my favorite portable vapes. I simply have nothing like it. It's what all the previous attempts at on-demand convection vaporizers meant to do, but failed.
It also comes with drinkware, and that's what scares me. What if the market doesn't accept it? If this were a pocketable vape, it would be a Grand Slam. But the drinkware adds uncertainty, even though I love it. It could help normalize the way we vape herbs. Still, some will skip this vape because they can't get past the drinkware, and the next sentences are for them. There will be some soccer moms with more sophisticated herbal palates than you, because the Bowle consistently delivers tasty rips, every time. Miss this one at your own risk.