Go to our Canadian store
Free shipping anywhere in Canada
Buy in Canadian dollars
Order ships from our warehouses in Canada - no delays at customs
Visit Canadian Store
We've detected that you have blocked cookies on your browser. Our website requires cookies to be enabled in order to function properly.
We're sorry but due to state legislation we cannot ship products to Maine, Nevada or Massachusetts at this time. If you'd like to be kept up to date, please let our customer services team know and we'll update you if this changes.
Free Shipping
Easy Returns
World Class Customer Service
Complete your setup: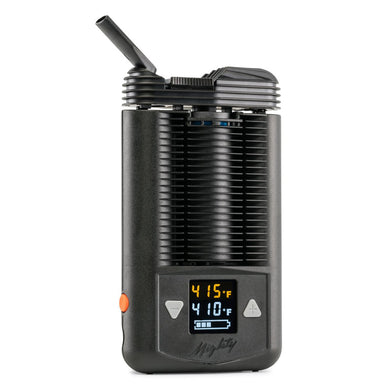 Mighty Vaporizer by Storz & Bickel
sale price: $239.25 regular price: $319.00
sale price: $299.25 regular price: $399.00
Features
Made specifically for Mighty & Mighty+ Vaporizers
Pair legendary performance with POTV Glass
Swap glass pieces in seconds
Designed with quality materials
Shop with the most trusted vaporizer store
Combine legendary performance with POTV Glass
Open the doors to a realm of vaping possibilities with the Mighty+ Glass Adapter. Pair the legendary performance of the Mighty+ with any one of our glass cooling stems, mini bubblers, or water pipe adapter for an enhanced experience and cooler, more flavorful vapor.
We're always striving to keep the scene new and exciting with improvements on our favorite vapes. That's why we created this adapter so you can use your Mighty in ways you never thought before.
Matches perfectly with the Mighty and Mighty+
This adapter replicates the original cooling unit of the Mighty and Mighty+ vaporizers. It twists and locks into place for a seamless experience. Just attach the adapter, and then swap between our collection of glass accessories in a matter of seconds.
We like to leave things better than we found them, so it's important that our products look good on your favorite vapes. This adapter is made to blend in and augment your Mighty. Not make it look like a different product.
Customize your experience with POTV Glass
Pick up any of our glass accessories and enjoy cool, comfortable vapor in your own style (not included). Whether you rock a glass bubbler at home or sesh on the go, we've got an accessory to fit your needs.
An old-school water bubbler feel in the palm of your hand. More intense, but more comfortable, too.
Our most popular glass piece. It hits like the Mini Bubbler, but you don't have to bend your neck over to get it.
Connect your vape to your favorite glass piece. Now you really get to vape your way!
Our best combination of cool vapor and a low profile. The vapor is slightly warmer than from the original Cooling Unit.
Our coolest dry stem. This is the stem for higher temperatures if you don't want a water bubbler.
Delivers the warmest vapor of all our glass pieces. Best at the lowest temperatures.
Safely connects to your Mighty vaporizer
Never worry about a damaged or ruptured Mighty with our Glass Adapter. Other adapters are awkward at best, and can even damage your vape if you're not careful. Our adapter is designed to work with your Mighty, not against it, for a safe fit that works seamlessly.
Designed with quality materials
Enjoy the pure quality that the Mighty is known for with our Glass Adapter. It's constructed with Platinum-cured, food grade silicone that never touches your herbs or vapor, and a PEEK insert that attaches directly to the bowl. As you inhale, vapor travels up through a stainless steel screen and into your glass accessory of choice.
Swap glass in seconds without opening the oven
Go from on-the-go hits with the dimpled stem or mini bubbler, to full sessions on a tabletop bubbler in seconds - without cracking open the oven. Other accessories require access to the oven and will expose your herbs if you want to swap attachments mid session. That'll never be the case with our adapter.
Easy to clean
Cleaning is as simple as it gets. Pull out the glass, remove the screen, and soak them in warm soapy water! It's that easy.
Cleaning Disclaimer: Do not soak the plastic or silicone pieces in rubbing alcohol. They should clean easily with alcohol wipes.
Compatible with Mighty & Mighty+
This adapter is compatible with both the Mighty and Mighty+ vaporizers
User manual
Download the Mighty+ Glass Adapter Manual here.
Return policy
We only accept returns for accessories if they are within 30 days, unused and unopened, or if they are being returned with a vaporizer under our 14-day satisfaction policy.
What's in the box
Mighty+ Glass Adapter
Extra Screens
Dimpled Glass Stem
Technical specifications
Materials
Platinum-Cured Silicone
PEEK-770G Insert
Stainless Steel Mesh Screen
Dimensions:
Width: 3.07 in / 7.8 cm
Height: 1.02 in / 2.6 cm
Depth: 1.22 in / 3.1 cm