Go to our Canadian store
Free shipping anywhere in Canada
Buy in Canadian dollars
Order ships from our warehouses in Canada - no delays at customs
Visit Canadian Store
NonaVong VapCap Vaporizer
Free Shipping
Easy Returns
World Class Customer Service
Shop with the most trusted vaporizer store
Who's the NonaVong VapCap for?
The NonaVong is perfect for those looking for a practically indestructible, manually heated vape that slips seamlessly into any 14mm fitting. Enjoy vaporizing your herbs with or without your favorite glass piece while never thinking about charging.
Made for glass
The NonaVong VapCap is sized to mate perfectly with any 14mm female fitting giving you the ability to pull tasty vapor through your favorite glass piece.
Microdose ready
DynaVap's NonaVong has an adjustable titanium bowl that holds between 0.025 and 0.1 grams.  Even with such a small dose, the vaporizer is surprisingly effective. Easy to reload quickly, the NonaVong makes it possible to vape as little or as much as you need.
Manual heating
Heating up the VapCap NonaVong is as simple as holding it up to a flame. The 'cap' clicks when at a vaping temperature from 300° F to 450° F, which is adjustable by what section of the cap you decide to heat.
Versions
Standard:  No mouthpiece and 3.25 inches long.
-S:  Has a spinning mouthpiece and is 3.25 inches long.
-XLS:  Same as the S but slightly longer at 4.25 inches. 
Fast as fire
The VapCap NonaVong gets up to temperature in 5 to 10 seconds from cold. Between bowls, heat up times are even faster.
Custom, tasty vapor
With manual heating and the "airport" carb, you are in complete control of the type of vapor you get. Light wispy flavor hits or thick satisfying heavy clouds can be achieved depending on where you decide to heat the cap. With an adjustable bowl size and being a true one-hitter, every draw is full of flavor.
Ultra-efficient
Because of the manual heating, the VapCap NonaVong does not heat your herb between hits making this one of the most efficient vaporizers we sell.
No battery to charge
The VapCap vaporizers  cut the power cord and will work with any lighter. We recommend using a nice refillable torch to get vaping as quickly as possible and keep a few Bics out of the landfill.
Super small
The S and Double Crown NonaVong are 3.5 in long with the XLS coming in at 4.25 in.  Possibly the smallest vape ever, the NonaVong comes with a plastic carrying case so you can throw it back in your pocket even while it's still warm.
Other VapCap vaporizers
VapCap M - Affordable, 100% stainless steel
OmniVap -

Top of the line, all-titanium internals with adjustable airflow

OmniVonG - Same as OmniVap but also mates with glass
Warranty
The VapCap vapes are built to last a lifetime and rare warranty issues are taken case by case. Like all of our products, the NonaVong is covered by our 100% Satisfaction Guarantee.
What's in the box
NonaVong by DynaVap
Plastic Tube Case
Owner's Manual
Technical specifications
S Height 3.5 in / 9 cm
Double Crown Height 3.5 in / 9 cm
XLS Height 4.5 in / 10.8
300° F - 450° F (150° C - 230° C) Manually Controlled Temp.
Customer Reviews
Write a Review
Ask a Question
Filter Reviews:
vapcap
herb
torch
glass bubbler
vape guy
POTV
delivery
vaporizer
smoke
order
07/18/2020
Jose S.
United States
So unsatisfied
I received this with an older model tip. I email and even your rep told me it was not the one it comes with. He told me he would replace the tip. Still waiting since the 4/20. Never shopping here again. Total ripoff.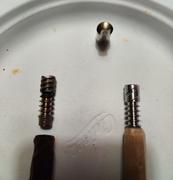 07/19/2020
Planet Of The Vapes
I am so sorry about this, Jose. Getting on this right away. Waiting since 4/20 is not acceptable to us either. You will be hearing from us on Monday morning. Again, my apologies. Please stay safe out there. With best regards, Larry
06/15/2020
James B.
Canada
Steep learning curve
Sadly, I cannot seem to figure out how to properly use this device, even after watching many YouTube videos and reading user reviews. The material either combusts or does not seem to produce vapor and remains green and unvaporized after several hearing cycles with the click. Not sure what I'm doing wrong, and quite disappointed. :(
06/18/2020
Planet Of The Vapes
There is a learning curve with the DynaVaps, James. We'll help you to get over that curve. I know you've said that you have checked many YouTube videos but you may not have sen this one: https://www.youtube.com/watch?v=sSWhhpr6Heg&has_verified=1 If that doesn't help, please contact us here :https://www.planetofthevapes.com/pages/contact-us ....and we'll get right on it with you. We'll get you up and running. Regards, Larry
06/02/2020
Jacob N.
United States
Horrible
It broke in half my first time using it.
06/05/2020
Planet Of The Vapes
It broke in half? Going to create a service ticket for right now, Jacob. Awaiting your reply, Larry
05/13/2020
Thalis M.
Canada
The closest vape to a bong hit
Love it, it gives me the closest experience and high to a bong that I've ever gotten from a vape. Easy to combust by accident but not difficult to find your sweet spot temperature. I own a Volcano and a Mighty but this thing fits its own niche and compliments them perfectly. Only negative is the resin builds up quickly in the mouthpiece when used in a bong and needs to be wiped off regularly.
01/28/2020
Patrick D.
United States