Go to our Canadian store
Free shipping anywhere in Canada
Buy in Canadian dollars
Order ships from our warehouses in Canada - no delays at customs
Visit Canadian Store
DynaVap 2020 M Vaporizer
$60.00
Regular price
$75.00
You save: $15.00
Free Shipping
Easy Returns
World Class Customer Service
$60.00
Regular price
$75.00
You save: $15.00
Shop with the most trusted vaporizer store
New Fall Colors
DynaVap has released a colorful line of 2020 M vaporizers for the 2020 Fall season. Fly under the radar with a familiar all-black Phantom M for a rugged, yet simplistic 2020 M. The upgraded Rosium color scheme features subtle flashes of golden flair that reveals itself with every twist and turn. The new Azurium M introduces a deep blue colorway into the DynaVap lineup that is a color-changing canvas for your lighter.
The latest 2020 DynaVap 'M'
True to form, DynaVap has updated the VapCap M for 2020, this time with some new features, a sparkly design, and a $5 price bump. In short, the 2020 M comes with a new tip design, the Captive Cap, Chiral airport, tapered mouthpiece, o-ring groove, and a new light-bending look.
Who's the DynaVap M for?
The VapCap M by DynaVap is perfect for anyone looking for a true one-hitter, manual vape with a practically indestructible build. Ready to vape off the grid, the simple design produces tasty, reliable vapor and never needs to charge.
Microdose ready
The 2020 "M" now comes with an adjust-a-bowl tip that has two settings - 0.1 grams and 0.05 grams. The stainless steel bowl is surprisingly effective, even with so little. It's also quick to reload, so you can vape back-to-back bowls for bigger sessions.
Manual heating
The VapCap M is heated with a lighter putting you in full control. The 'cap' has an audible click to let you know you're at temperature and ready to vape. It's so simple, but effective, and takes the guess work out of lighter based vaporizers. Change what section of the cap you heat to give you different vaping temperatures, from 300° F to 450° F, so you're in full control.

Check out our DynaVap Quick Start guide to learn more about getting started with your VapCap.
Fast as fire
The VapCap M heats up in five to ten seconds from a cold start, and even faster during a session.
Custom, tasty vapor
With the M's manual heating, you're in complete control of the vapor. Dial in a fast and light inhale, or a thick and heavy cloud, depending on where you heat the cap. With the small bowl size, every hit is full of flavor.
Ultra efficient
You can come back to the same bowl later, since the VapCap M does not heat your herb between inhales. The simple manual heating makes this one of the most efficient vapes we've come across.
No battery to charge
DynaVap vaporizers work with any heat source, but work best with a small torch lighter. No more worries about battery life, and "recharging" is as simple as refilling your lighter with butane.
Super small
The VapCap M is 3.5" long, which puts it high in the running for smallest vape ever. It comes with a plastic tube carrying case, so you can throw it back in your pocket even while it's still hot, and the only other things you'll need are a lighter and some herbs.
Other VapCap vaporizers
DynaVap 'M' Starter Pack - The Starter Pack contains everything you need to get started with DynaVap. Just add herbs!
HydraVong - Wood body tapered to mate with 14mm glass
OmniVap - Top of the line, all-titanium internals with adjustable airflow.
Warranty
The DynaVap M is built to last a lifetime, and rare warranty issues are taken case by case. Like all of our products, the VapCap M is covered by our 100% Satisfaction Guarantee.
What's in the box
VapCap M
Recyclable packaging
Technical specifications
Height 3.5 in / 9 cm
Diameter 3/8 in / 1 cm
Weight .67 oz / 19 g
300° F - 450° F (150° C - 230° C) Manually
Controlled Temp.
100% Satisfaction Guarantee
Customer Reviews
Write a Review
Ask a Question
Filter Reviews:
vape
DYNAVAP
learning curve
hits
POTV
herb
vaporizer
torch
bowl
device
11/05/2020
EJ
United States
Love the Dynavap
These are great, I have the Mighty and Volcano but would rather use the Dynavap over both. Before I got this I had the other vapes but always seemed to mostly use the old fashioned method (glass tube and fire). Simple to disassemble and clean and gives great results once you get it down. It took me 3 days and some video watching to get it good with ground herb and after about a week I figured out I could use it effectively. I used a small broad torch lighter and added some colors to my Rosium which is a great feature (since all your friends will want one) as long as your careful not to overheat spots too much from my experience in a few spots they can lose color and go grey if you overdo the heat.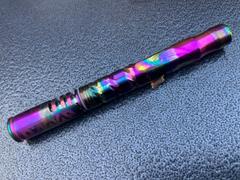 11/08/2020
Planet Of The Vapes
Great pic EJ. Nice work !! Regards, Larry
JH
10/30/2020
Josh H.
United States
Awesome as always, but phantom not so durable
I love DynaVap. My friend gave me the 2019 as a wedding gift, and I've been a DynaVap nerd ever since. I decided to get the 2020 because of the new features. A+ for the new features. Definitely worth the upgrade, honestly. So far, it's even producing better AVB than the 2019. My only complaint is that I feel like the "Phantom is the most durable color choice" is a bit misleading. This picture shows my mouthpiece after one use. Scratches are starting to develop more over the body of it. The cap and bowl are even worse, but I couldn't get a decently focused picture of them. It's not a big deal. Cosmetic problem. Works like a champ, regardless. Just kinda wish I had gotten Rosium or just the plain 2020 M. I feel like the Rosium would at least hide blemishes better, if it got any at all.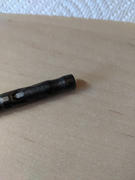 10/28/2020
robert b.
United States
The best way to consume, EVER!
These things are really efficient. It doesn't hold much so it's not good for a crowd. And there is a small learning curve. Extremely fast heat up with a torch style lighter and the first hit is full of flavor. The second hit is not as flavorful but feels more potent. Third hit is more potent and so is the forth. By this time I'm already getting buzzed, (it doesn't seem like it should hit me quite so fast, but it does!) Empty the chamber, SAVE the used **** to make edibles. Do one more bowl while you contemplate how you can get your head right so fast on such a small amount and why didn't you get one sooner! I'm in love with it!!!
10/11/2020
Malcolm M.
Canada
Best m yet!
I started using Dynavap with a 2018 M a couple of years ago and it was the first vaporizer that really worked for me. I quickly customized my set up with a titanium tip and some different stems and really liked the extra airflow and quicker hits of the titanium set up, I thought the 2019 m looked really pretty, but I held off last year and I'm glad I waited! The 2020 M has more new features and improvements than ever before and honestly it's the first stainless tip set up I've tried that has better airflow than the titanium, even with the airport's fully closed. being able to use the half size bowl really helps conserve your bud without any drop in performance. With all these improvements Dynavap are really closing the gap between their M series and the higher priced Omni series in terms of performance and control but keeping the price super accessible. Love it. Can't wait to see what they come up with next year!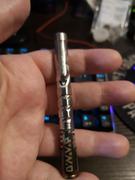 10/09/2020
KS
United States
Extremely disappointing
Given all the hype over DynaVap within the vaping community, I wanted to give it a whirl... and I've tried. So hard. I know that DynaVap comes with a learning curve, but either I'm ****** or that learning curve is just too steep. I love POTV, I love their offerings and customer service, but I honestly wish the return/exchange window for this DynaVap was still open, because I regret wasting my money on it (when I could have stashed that money away towards buying another vape that I actually would want to use). Sorry, y'all.
10/09/2020
Planet Of The Vapes
We're going to work with you on this, Karen. Creating a service ticket for you right now. Regards, Larry