It's hard to stand out these days in the portable vaporizer market, but the compact Boundless CFC Lite does it with a feature set and price combination we're excited about. Boundless packed a full sized oven into this little beast, that also sports a removable battery and vibration feedback for just $65. The clouds are on par with bigger portable vapes, so don't let the size or price mislead you. This one could set new standards for what we expect in an affordable, pocketable dry herb vaporizer.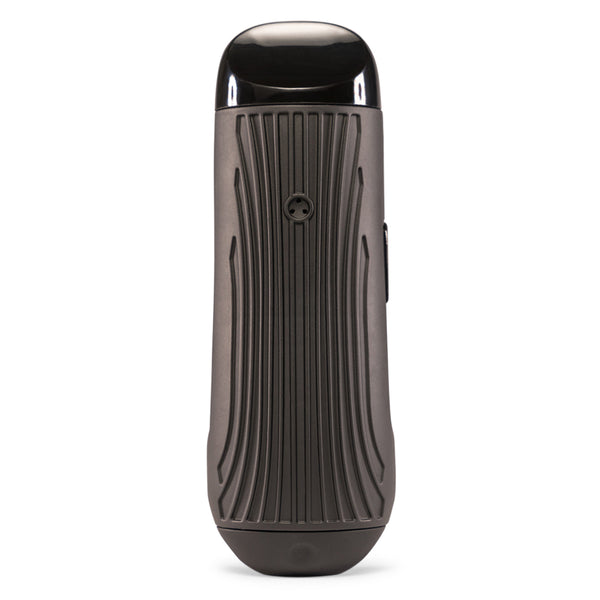 $59.95 Regular price: $64.99
The Boundless CFC Lite mixes key features and performance into a compact, budget-friendly package.
Insanely pocketable
Easy to use
Thick, potent vapor
Quick heat up
Full size oven
Replaceable battery
SHOP NOW
Free Shipping
Easy Returns
World Class Customer Service
Boundless' smallest vaporizer yet
We don't normally start a review talking about a vaporizer's size, but in this case, it's the first thing you'll notice, and probably the reason you'll want it. At just under four inches long, and a little over an inch in diameter, the CFC Lite is one of the smallest vapes of its kind. You can almost hide it completely in an average sized fist, and it's easy to forget it's in your pocket. Discretion and portability are reaching new levels, and this vape does it without disappointing on vapor.
Big vapor from a little package
The most important thing to us in an affordable vaporizer is the vapor quality, and the CFC Lite blows clouds you'd expect from a bigger conduction vape. Sporting the same full-sized oven as the larger CFC 2.0, you can easily pack a third of a gram, or more with a really tight pack, but it also works well with just a pinch. The flavor is decent, but it's the clouds you'll remember. Boundless has packed its signature punch into an even smaller package, and the CFC Lite consistently outperforms its size without any fuss or special technique.
Replaceable batteries keep it going
The CFC Lite's battery span is just right for a casual user, or a night out on the town. Boundless claims you'll get four to six sessions per charge, and we consistently got five sessions no matter what temperatures we used. That's about half what you'd get with the CFC 2.0, but the Lite has a removable battery. Grab one or two extras and never give it another thought.
The CFC Lite uses an 18350 battery, shorter than the 18650 batteries you might be used to, which helps make the low profile possible. Make sure any spares you buy are close to 10 amps, with at least 800mAh, and you'll be fine. The battery takes about an hour to charge internally, and a little over half that in an external charger. It doesn't support pass-through charging, so you'll need to bring an extra battery or plan ahead.
Quality vapor is cheaper than ever
This is where things get good - a $65 price tag should bring electric portable vapes into just about any budget, with a quality that impresses. Cheap vapes that cut corners do nothing more than turn people off of vaporizing, and the CFC Lite makes all those disappointing options unnecessary, bringing satisfying clouds to a new, low price point.
30 second heat up time
The CFC Lite is fast, with a 30 to 40 second heat up time, depending on battery level and temperature selected. Like any conduction vape, it benefits from a little extra time to let the heat soak into the herbs, but we saw clouds by the second draw, without a wait. We wouldn't call it on-demand vapor, but a 30 second wait doesn't leave much to be desired.
Three temperature selections
This is where the CFC Lite gets basic. You control its three temperature settings (385°F/196°C, 403°F/206°C, and 421°F/216°C) through a single, lighted button. The temperature range is just wide enough to catch most users, but low-temp vaporists might be disappointed. We'd like more temperature options, but this is a good place to cut back when designing a budget vape. We'd rather have removable batteries and vibration feedback than a digital display for our sneaky, portable vape.
Simple, easy controls
The CFC Lite's limited temperature options make for an easy control scheme. A single, tri-color, lighted button selects and shows the temperature, checks the battery level, and turns it on and off. The topside has four little lights to display the battery level. On the opposite, bottom side, is the air intake hole. If your vape feels clogged up, chances are you're accidentally covering this hole with your hand somewhere. The CFC Lite also vibrates when it's ready! Overall, this is an easy vape to operate.
Quality build that doesn't like rubbing alcohol
The CFC Lite's build stays true to the Boundless style, with a plastic outer shell that can take a beating. A familiar ceramic oven is in play here but, unlike the CFC 2.0, this one can stand upright on its own when loading. The micro-USB charge port is opposite the power button, and the outer shell has a stylish texture, but it dissolves when in contact with isopropyl alcohol, so be careful when you're cleaning it.
Dimensions
Height 3 7/8 in / 9.84 cm
Diameter 1 1/4 in / 3.2 cm
Weight 2.54 oz / 72 g
What's in the box?
One 18350 battery
USB Charge Cable
5 Extra Mouthpiece Screens
5 Oven Screens
Cleaning Brush
Packing Tool
Manual
Three year warranty
Boundless covers the CFC Lite with a three year warranty on any workmanship and defects, and covers the battery for 90 days. Like all of our products, the Boundless CFC Lite is also covered by the Planet of the Vapes 100% Satisfaction Guarantee.
For best results
If you've ever used a conduction vaporizer before, you'll feel right at home with the Boundless CFC Lite. It's not built for concentrate use, but we had good sessions with everything from a pinch of ground herbs, to an oven packed with whole flowers. Pack it full and tight for cigar-puff sessions, or pack it loosely for long, slow draws. The mouthpiece attaches easily, and we recommend removing it slowly. If you push too hard to get it off, the internal gasket can loosen up, which is a slight nuisance.
Cleaning and maintenance
There's not much to cleaning the CFC Lite. Prepare a glass of isopropyl alcohol, a glass of warm, soapy water, and a cotton swab. All of the metal screens can be soaked in alcohol for as long as necessary. The silicone and plastic parts can be wiped, but not soaked in alcohol. Be careful not to get alcohol on the CFC Lite's outer shell, or it will leave an ugly mark.
Who's the Boundless CFC Lite for?
At $65, the CFC Lite is within most budgets, and you no longer have to sacrifice quality to give vaporizing a try. It's small enough to go anywhere you want, with replaceable batteries for those of us that want to vape a lot. The CFC Lite is a great vapor ambassador for the curious, and also good enough to find a spot in an experienced vaporist's lineup as a compact option.
Who's the CFC Lite NOT for?
For $65, the CFC Lite isn't going to 'wow' the connoisseur with its vapor quality, and it doesn't come with a concentrate option. If you need more features or a wider temperature range in your budget vape, really good options are out there, such as the Starry, for as little as $35 more.
Final thoughts
Boundless recently came out with the CFC 2.0, so do we really need another pocket conduction vaporizer? In this case, though, the price and feature set combine to reach a new level of value. It's smaller, cheaper, and outside of digital temperature control, has more features than the CFC 2.0. The CFC Lite has the chance to be Boundless' biggest hit since they debuted with the CF and CFX a few years ago, with features we expect at a higher price point. We're excited to see where it goes, and to hear what you think of it.