The Tafée Bowle delivers top shelf vapor in a sleek, familiar form. Use this quickstart guide to get up and running with a pleasing first session.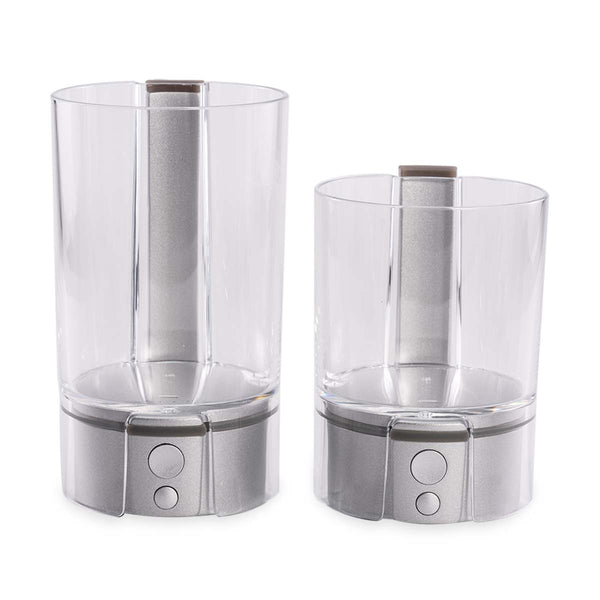 $369.00
The Tafee Bowle pairs your favorite beverage with top-shelf vapor.
Ridiculously smooth vapor
A vape and cup in one
Full convection heat
Instant heat up
Blends into your lifestyle
Vape at your own pace
SHOP NOW
Free Shipping
Easy Returns
World Class Customer Service
Tafée Bowle Vaporizer Quickstart Guide: What's in the box
Tafée includes a generous variety of accessories from the get go.
Puck Base Unit and Stem
Drinkware (Optional)
Potter+ Herb Shredder
Four Ceramic Oven Pots
Two Mouthpieces
Quick Charge USB Adapter
Charging Cable
Maintenance Kit - one wooden brush with a flat end, one metal brush
Charge it
The Bowle comes out of the box with about half a charge. Grab the included Micro-USB cable and adapter, and charge up your Bowle. An empty battery should only take about an hour to charge. It will show its current charge while plugged in, and shut off when it's ready to go.
Two button controls
The Bowle's controls are simple and straightforward. Triple click the large button to turn it on and off, and the small button to cycle through each temperature setting. Give the large button a single click to fire it up, and check your current battery charge by clicking both buttons together.
Burnoff is optional
New vaporizers may come with residues from the manufacturing process, but we found the Bowle to be an exception. A burnoff isn't necessary, but if you feel compelled, set it to the highest temperature and hold the fire button until it runs a full heat cycle to cleanse the heater. For the stem, remove the silicone mouthpiece and give the stem and the white ceramic pot a quick rinse in isopropyl alcohol.
Grind it and pack it
From hand torn to finely ground herb, the Tafée Bowle works with just about any grind. The included Potter Grinder works well, so throw some herbs in and fill up the oven pots. The Bowle works best with a soft tamp, not too tight, to get a thorough and even cook. With the butt end of the stir tool located on the bottom of the puck, lightly press the herbs into the pot until they are flat on top, and set the pot into the stem. Load the stem into the puck and you're good to go.
Hit it!
For this first session, we'll start on temperature setting two for strong, yet flavorful vapor. Click the bottom button and cycle through until just two lights are displayed. When you're ready to go, click and let go of the top button once, wait for it to turn from dark blue to green, and hit it! The Bowle's breath activated function will only heat while you're taking a hit, so draw as long or as short as you please.


Like with most full convection vapes, your first hit may be underwhelming but will kickstart on your next hit, so jump right back into it. Stirring isn't necessary when you're all out of vapors, so just dump it out and load up another bowl.
Cleanup
While the pot is still warm, take the included brush and sweep out all spent material. Cooked herbs will harden and stick to the pot as it cools down, so be sure to do this at the end of each session. Incorporate this extra step to keep your Bowle vaporizer in great shape for longer.