Table of contents
Last updated: July 10th, 2023
We are constantly looking for new and exciting products to add to our list of top choices. This page will continue to update and evolve as we discover and test more vaporizers.
Battery performance can make or break your vaping experience if you're not using a desktop vaporizer. Battery performance can make or break your vaping experience if you're not using a desktop vaporizer. It can affect your heat up time, number of sessions, and the length of those sessions.
Each vape on this list has been tested for both their battery capacity and performance, and is guaranteed to deliver enough power for most users out there, so let's jump into it and take a look at the best portable dry herb vaporizers for excellent battery life.
Best vapes for battery life: How we test
One of the first things we test when we receive a new vaporizer is its battery life. This plays a huge role in the overall vaping experience so it's important to get all the details. To get the most consistent results, we keep it at a set mid to high range temperature to mimic a traditional vaporizing session, and then we use it like we normally would and run enough sessions through it until the battery hits zero. We count how many sessions we get and how long it takes to heat up to see exactly when and how the battery affects the session throughout.
A quick summary
Arizer Solo 2
Arizer Air Max
Mighty+
PAX Plus
POTV XMAX Starry V4
Honorable mentions
DynaVap vaporizers
Sticky Brick vaporizers
Arizer Solo 2
Keep the great vapor production rolling all day long with our choice for the Best Portable Vaporizer for Battery Life 2023, the Solo 2. With a fully charged battery, this vaporizer sustains a steady three hours of session time on a full charge, and will keep running while it's plugged in if the battery dies before you're finished.
The Arizer Solo 2 comes equipped with full temperature settings and controls on an LED screen, a clean air path and glass mouthpiece, and pure, high-quality materials for exceptional vaporization. For the very best battery life, grab the Solo 2. Comes with a one year warranty on the battery and a lifetime warranty on the heating element.


| | |
| --- | --- |
| Pros 👍 | Cons 👎 |
| 3 hour battery life | Not pocketable |
| Great flavor | Fragile glass stems |
| All-glass vapor path | |
👉
Read Arizer Solo 2 Review
$114.95 Regular price: $269.99
The Solo 2 is Arizer's most popular portable vaporizer.
Fantastic taste
Quick heat up time
Long battery life
Easy clean up
Customizable features
SHOP NOW
Free Shipping
Easy Returns
World Class Customer Service
Arizer Air Max
Arizer showcases another contender for the best battery life with Arizer Air Max and its larger battery. This dry herb vape is powered by a monster, high-capacity 26650 replaceable battery that grants users two and a half hours of straight runtime. And with universal USB-C charging and pass-through charging to compliment this powerful battery, you'll never be without fresh hits for too long.
Custom session settings, a pure glass vapor path and glass stem, and comfortable airflow from its stainless steel heating chamber reinforce Arizer's signature quality with the Air Max. It also comes with a water pipe adapter for smooth bubbly rips. Grab a spare 26650 battery and the Air Max can't be beat.
| | |
| --- | --- |
| Pros 👍 | Cons 👎 |
| Replaceable high-capacity battery | Fragile glass stems |
| Great portability | Small oven for big appetities |
| Flavorful vapor | |
👉
Read Arizer Air MAX Review
$199.99 Regular price: $319.99
The Arizer Air Max provides all day power and Arizer's signature quality.
High quality vapor
Massive replaceable 26650 battery
Comfortable airflow
Fast heat up time
Customize sessions to your style
SHOP NOW
Free Shipping
Easy Returns
World Class Customer Service
Mighty+
Storz & Bickel's Mighty+ scores high in a lot of categories, including battery life, and is a great option whether you're a beginner or experienced vaper. Its dual lithium-ion batteries power enough sessions to last anywhere from 60 to 90 minutes, with a USB-C charge port to fill up anywhere.
The Mighty+'s vast temperature range caters to a variety of styles, while its conduction/convection heating and effective cooling unit produce full, rich clouds that are gentle on the throat. Pick up the Supercharger to cut charge times down to an hour and you're set up great for the long run.
| | |
| --- | --- |
| Pros 👍 | Cons 👎 |
| 60 to 90 minutes of battery life | Premium price tag |
| Unrivaled consistency | Not very pocketable |
| Great flavor | |
👉
Read Mighty+ Vaporizer Review
$399.00
The Mighty+ is the new gold standard for portable vaporizers. The Mighty+ is always excellent.
Strong, tasty, comfortable vapor
Universal USB-C charge port
Great battery life
One-minute heat-up time
UL certified quality
Fantastic sessions every single time
Use code S&B20 for 20% off!
SHOP NOW
Free Shipping
Easy Returns
World Class Customer Service
PAX Plus
The PAX Plus's pure conduction heating is battery-efficient with 80 minutes of session time. This stylish conduction vaporizer comes with a simple one button control scheme and four preset Experience Modes for easy on-the-go vape sessions, no bluetooth app required.
Turn it on, set your temperature, and enjoy long, gentle sessions with just a few button clicks, with or without a grinder. If you're looking for a highly pocketable vape with great battery life and a completre vape kit, the PAX Plus gets two thumbs up from us.
⚠️Special Deal⚠️ Receive our POTV Glass Accessory Adapter for PAX, plus a Dimpled Glass Stem, Curved Mini Bubbler, and Water Pipe Adapter for FREE with every PAX Plus! Only while supplies last! (worth $54.80)
Shop PAX Plus Now
| | |
| --- | --- |
| Pros 👍 | Cons 👎 |
| 80 minutes of battery life | Not ideal for big hits |
| Ultra pocketable | Limited customization |
| Large oven | |
👉
Read PAX Plus Review
$200.00 Regular price: $250.00
Enjoy PAX's signature Experience Modes with the PAX Plus - no app required.
Four preset Experience Modes - no app required
Cool and tasty or strong and potent vapor
Ultra pocketable
Large oven
Two hours of session time
SHOP NOW
Free Shipping
Easy Returns
World Class Customer Service
POTV XMAX Starry V4
The XMAX Starry V4 is our battery-efficient vaporizer on a budget. For half the cost of the PAX Plus, the Starry V4 grants users 80 minutes of runtime on a single charge, a user-replaceable battery, and precise temperature control on a full LED display.
When you purchase yours from Planet of the Vapes, the Starry V4 also comes with an upgraded 18650 3200 mAh battery to kick the battery life to over 90 minutes on a single charge.
Build quality is tough, it fits in just about any small bag or pocket, and sits at an attractive price point. Pick up a spare rechargeable 18650 battery, and maybe a portable power bank, and you'll be vaping for days.
| | |
| --- | --- |
| Pros 👍 | Cons 👎 |
| 80 minutes of battery life | Takes a bit of time to reach full vapor production |
| Very pocketable | Doens't do well with quick, fast draws |
| Removeable battery | |
👉
Read POTV XMAX Starry V4 Review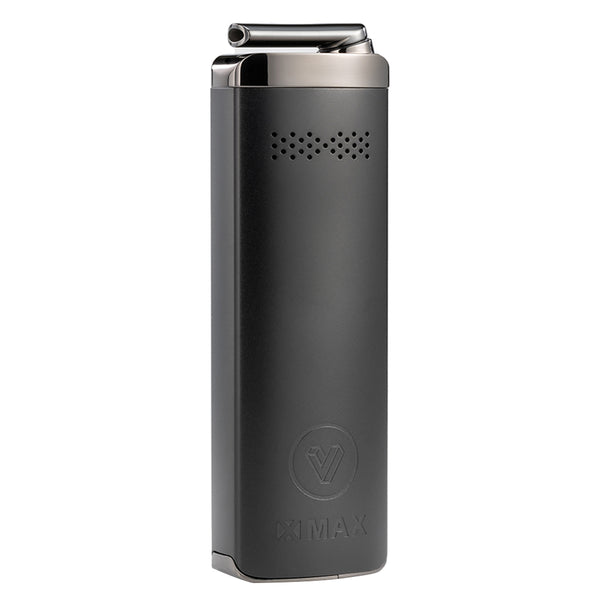 $99.00
The Starry V4 takes a popular vaporizer to the next level with upgrades and improvements.
Gentle, yet effective vapor
Adjustable airflow
Removable battery
Precise temperature control
USB-C charging
SHOP NOW
Free Shipping
Easy Returns
World Class Customer Service
Honorable mentions
Battery capacity is an afterthought with our lineup of torch-powered vaporizers. Pick up one of these vapes, top off your torch lighter with butane, and blow clouds from dawn to dusk.