With a vast sea of different types of grinders, how do you find and choose the perfect one for your vaping needs? They're an important piece of the vaporization puzzle but come in all sorts of shapes, sizes, and configurations.

Most types of grinders consist of at least three main components: a chamber to grind, grinding teeth, and a lid to keep it all together. You'll find two-piece, three-piece, and four-piece grinders, all of which do the same thing but cater to different needs for different purposes, which we'll cover. Don't worry.

From different materials like metal, wood, and plastic, to a variety of pieces and components, choosing the right grinder for your dry herb vaporizer experience (and smoking experience) can be overwhelming. We'll get you up to speed so follow along as we dissect the world of grinders and all of their different types.
Grinders for sale: Planet of the Vapes
Planet of the Vapes: Learn from the experts
We believe that vaporization is the best way to consume herbs, and it is our purpose to make it the preferred choice of herbal consumption and to spread the joy of vaping, every day. We produce comprehensive reviews and guides to help you make the best buying decision and vaporize with confidence, from start to finish. Our team of vape experts perform extensive tests and research on each product to learn just about everything there is to know and to ensure it's worthy of your hard-earned money.
Types of Herb Grinders: Quick summary
Here's a quick rundown of the many types of herb grinders you can find.
Twist-and-turn grinders
Hand-crank grinders
Grinder cards
Metal grinders
Plastic grinders
Wooden grinders
2-piece grinders
3-piece grinders
4-piece grinders
What are herb grinders used for? How do they work?
Grinders are simple little tools. They shred your herbs down into smaller pieces and provide a larger surface area for your vaporizer to cook from.

Every grinder will have at least three main components: a grinding chamber to grind, grinding teeth, and a lid to contain it all. Place your herbs inside the chamber and then shred them to pieces. When it's reached your desired consistency, open the lid and dump them out. Whether your grinder has two or four pieces, they all work pretty much the exact same way.

Check out our full guide on How to Use a Dry Herb Grinder for Beginners.
What are the different types of herb grinders?
Herbal grinders come in a few different shapes and sizes. Some are battery-powered or come with a handle attached while some take a truly unique approach.
Twist-and-turn grinders
These are the most common types you'll find. Open the lid, insert your herbs, and twist and turn until they're all chopped up. They come in a variety of different shapes, sizes, and colors, and even different materials like metal, plastic, and wood. 
Hand-crank grinders
Hand-crank grinders are simple to use and easier on the hands. They work just like your traditional grinder that you twist and turn, except they come with a small handle on top that you crank to grind the herbs up. This style is perfect for those with injuries or ailments like arthritis or carpal tunnel, or if you just hate twisting and turning.
Electric Grinders
Electric grinders are the fancy, high-end options of the grinder world. These battery-powered shredders grind at the click of a button and finish within seconds, with zero effort from you. Just load it up, turn it on, and you're done. These are the best option if you want to play a minimal role in the grinding process or if you have physical ailments. These can run up in price really fast, but you get what you pay for.
Grinder cards
Grinder cards are unique herb grinders. They're perfect for small, minimalist-style setups and can serve as great backups if you forget your standard one. Similar to a cheese grater, scrub your herbs along the card to chop it up and that's it. No storage container to hold it or sifting screens to retrieve the pollen. They're usually shaped like credit cards so you can easily stash one away in your wallet or throw it in just about any small pocket or purse.
What are herb grinders made of? Metal, plastic, and wooden grinders
As mentioned, grinders come in many shapes, sizes, and configurations, but you'll also find them made from different materials like metal, plastic, and wood.
Metal grinders
The most common type of grinder. These grinders sit higher on the price scale but they're built tough and their durable grinding teeth shred nice and smooth compared to the rest. They're usually made from anodized aluminum or stainless steel. Our CNC POTV aluminum grinder is a popular choice.

Plastic / Acrylic grinders
These are great budget-friendly options. They're a little more fragile and susceptible to chips and cracks if you're not careful, but are quite effective. See the 2-piece Acrylic Grinder or the Storz & Bickel Herb Mill.

Wooden grinders
Wooden grinders fall somewhere in between. They usually offer unique craftsmanship and solid grinding power but can be a little bit harder to clean.

How many pieces are there in a grinder?
2-piece herb grinders
The 2-piece grinder is your basic unit, with two halves loaded with sharp teeth to shred your herbs. The longer you twist the halves, the finer the grind. Twist and turn just a couple of times if you want a coarser grind, or keep going for a finer grind.

There's no collection chamber with a two-piece grinder, so it can be a pain when it's time to retrieve your goodies. Dump out your herbs or use a pick tool to scrape them out.
3-piece herb grinders
3-piece grinders are the most popular. The second piece has holes that range in size, depending on the type of grind it produces. The top two pieces shred your herbs while the third catches and stores them once they're small enough to fall through the holes. Unscrew the bottom piece to easily access your ground herbs.
3-piece grinders 👍👎
2-piece grinders 👍👎
Dedicated collection chamber
Best for light travel
Can't over grind
More control over the grind consistency
Available in a variety of different materials
Available in a variety of different materials
Collection chamber can serve as temporary storage
Easier to clean
No dedicated pollen catcher
No dedicated collection chamber or pollen catcher

Bottom line

2-piece grinders are simple and great if you want more control over the type of grind. 3-piece grinders come with a dedicated storage chamber and won't overgrind.
4-piece herb grinders
A 4-piece (sometimes called 4-stage) grinder does everything a 3-piece can, but with an extra chamber at the bottom. This bottom chamber has a screen to separate and catch any sticky pollen/trichomes that fall from your herbs while you grind. This pollen gives your herbs their unique qualities and with enough of it, can pack a mean punch. Grind consistently, and over time you'll have enough build-up to spike your herbal concoctions.
What are the benefits of a 4-stage grinder?
4-stage (or 4-piece) grinders are the perfect combination of function and practicality. They're great for medium and coarse grinds and come with two separate collection chambers. One for your ground herbs and one to collect pollen. Compared to 2-piece options, 4-stage grinders also provide a more consistent grind. The herbs will fall through the little holes of the grinding chamber when they're small enough, so you can't overdo it.
4-piece grinders 👍👎
3-piece grinders 👍👎
Dedicated collection chamber

Dedicated collection chamber

Can't over grind
Can't over grind
Available in a variety of different materials
Available in a variety of different materials
Collection chamber can serve as temporary storage
Collection chamber can serve as temporary storage
Dedicated pollen catcher
No dedicated pollen catcher

Bottom line

3-piece and 4-piece grinders are very similar, except one comes with a dedicated storage pollen catcher and one does not. If this is a must, grab a 4-piece.
What types of herbal grinds are there?
Fine grind
Fine grinds are great for quick, potent sessions. You can pack more into your oven with a finer consistency and vaporize more at once. Be careful with super fine grinds. Too fine and you'll clog your vape.
Coarse grind
Coarse grinds provide the most flavor and a slower cook. More of the potent compounds and flavorful terpenes remain intact with this type of grind and is perfect for long, relaxing sessions with the purest flavors.
Medium grind
A medium grind is a nice balance for general use. It's not too fine, but not too coarse, and will work with just about any vaporizer on the market.

Medium grinds are a perfect balance of the two. It's ground enough that it'll produce thick, potent vapor, but not so much that you lose its rich flavor profile. This is a great grind for most vaporizers on the market.

What type of grind you use is important in some cases, but in general, is a personal preference. Play around and find the perfect grind for your session.
What are the different types of herb grinder teeth?
Grinder teeth come in a variety of different shapes and sizes. Small, diamond shapes are the most common I've seen but you can also find pointy pyramid shapes, long rectangular shapes with pointy corners and edges, and even a mix of all of them put together.
| | |
| --- | --- |
| | |
| Diamond Shaped | Sharp Rectangular Shaped |
| | |
| Pointy Pyramid Shaped | Sharp Square Shaped |
The shape of the grinder teeth doesn't make too much of a difference. They're all designed to shred to the perfect consistency. Some are designed to last longer than others, while some emphasize a strong grind with a smooth glide.
What are the different herb grinder sizes?
Grinders come in all shapes and sizes for a variety of different occasions. Small, medium, and large are the most common.
Small / Mini grinders
Small / mini grinders are tiny, pocketable grinders ranging from 1.25 inches to about 2 inches in diameter. They're perfect for travel and minimalist-style setups at home and can fit just about anywhere. They don't hold as much as the bigger ones but they'll shred just as well. If portability matters and/or you don't care to grind tons of herbs at once, these are a solid choice.

Medium grinders
Medium-sized grinders sit anywhere between 2 to 3 inches in diameter. Most grinders fall in this category and are a great in-between option. They're small enough to fit in a travel bag without taking up too much space, but big enough to grind herbs for any session, big or small. If you want the best of both worlds in a grinder, a medium-sized one is a safe bet.

Large grinders
Large and XL herb grinders are 3 inches or more in diameter. These beefy grinders are made to tear up massive amounts of herbs and are ideal for numerous sessions, massive bowls, and/or groups of friends. You'll definitely notice it inside your bag or travel pouch so skip these if you need a more practical size for travel, otherwise, pick one up and you'll always be ready for whatever comes!

Small, medium, and large grinders for sale
What is the best type of grinder?
The best grinder for herbs is the one that serves you and your purposes and helps you get the most out of your dry herbs. Here are a few key points to help you decide:
1. What type?
Pick up a twist and turn grinder if you want a standard, long-lasting option.
Use a hand-crank grinder if you want something similar to a twist-and-turn that's easier on the hands.
Go for an electric grinder if you want an easy, no-fuss option.
Check out grinder cards if you need a highly portable, minimalist-style alternative.
2. How many pieces?
Grab a 2-piece grinder if you want a basic package and nothing extra, or more control over the grind consistency.
If you want an extra storage compartment for your herbs after it grinds, grab any 3-piece or 4-piece grinder.
If a pollen catcher/sifter is a must, grab a 4-part grinder and a pollen scraper.
3. What material?
If longevity and durability are important, spend a little more and grab a metal grinder.
If you need to save money, choose a plastic grinder.
Grab a wooden grinder if you want something effective and unique.
4. What size?
Small grinders are perfect for travel and smaller setups.
Medium grinders are great for sizeable amounts of shredding but aren't too big.
Large grinders are ideal for heavy users or strictly at-home sessions.
Types of herb grinders: FAQs
Q: What makes a good herb grinder? A few pro tips
A: The most important quality is the grind. It should be consistent throughout. You don't want to find larger chunks in a sea of smaller pieces and vice versa

High-quality materials, durable construction, and strong grinding teeth are also things to pay attention to. You'll want a type of grinder that's built to last with refined threading and durable teeth. Aluminum grinders are extremely popular and built for the long run.

Q: How much does an herb grinder cost?
A: Herbal grinders can start at a budget-friendly $20, or even cheaper, and can reach upwards of a few hundred dollars. Pay attention to the materials and make sure you grab one from a reputable source.

Q: Which herb grinder is best?
A: The best herb grinder is the one that serves you the best, but if you want to skip all of the research and pick up a solid option, check out our POTV 4-Piece Grinder.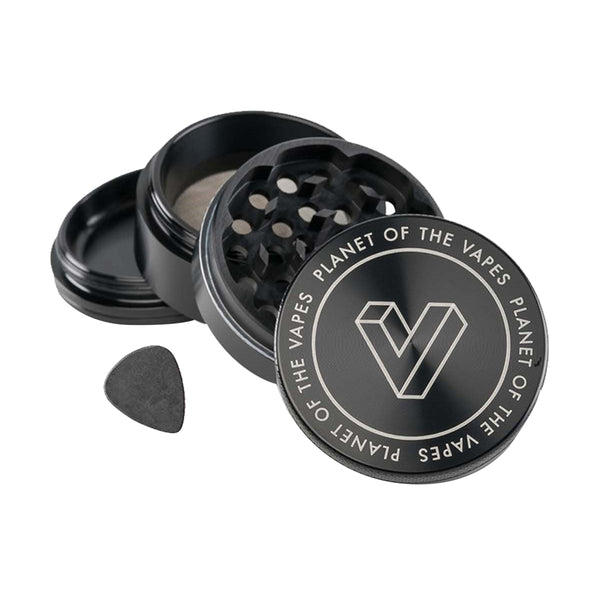 SHOP NOW
Free Shipping
Easy Returns
World Class Customer Service