Go to our Canadian store
Free shipping anywhere in Canada
Buy in Canadian dollars
Order ships from our warehouses in Canada - no delays at customs
Visit Canadian Store
Shop with the most trusted vaporizer store
Who's the PAX 3 for?
The PAX 3 is a perfect vaporizer if you're looking for a stylish, ultra-portable, and smart everyday carry kind of vape that works amazingly well with both flowers and concentrates.
New complete kit & basic kit
PAX now offers two different accessory options with the same PAX 3 vaporizer depending on how much you'd like to pay and what kind of vaping you prefer. 
The PAX 3 Complete Kit comes with all the same accessories as originally offered with the PAX 3 including the Concentrate Insert for the extract inclined.  Priced at $249, you get $100 worth of accessories for $50 more than you would pay for the Basic kit. 
The PAX 3 Basic Kit, on the other hand, comes with everything you need to vape a full oven of dry herbs and nothing you don't.
In-Depth PAX 3 Complete Kit vs. Basic Kit Comparison Here >>
New matte finish
PAX has changed out the glossy finish on the PAX 3 for a nice matte version of all the colors.
Small
The PAX 3 easily fits in a pocket or a purse and can be hidden in most people's hand.
Smart
The PAX 3 utilizes both lip and motion sensors keeping the oven hot only when you're actually vaping and shutting itself off when you're done. The LED pedals on the face tell you whether it's heating up, ready to vape, the battery level, temperature and everything else you need to know.
Customizable app
PAX has released a smartphone app (currently only available for Android devices, read more about the Apple app store situation here), allowing you to customize heating profiles, update firmware and even implement security on your PAX 3.
Concentrates & dry herb
Unlike it's predecessor the PAX 2, the PAX 3 Complete Kit comes with a Concentrate Insert allowing you to switch from herbs to concentrates whenever you like. Usually '2-in-1' vaporizers really only do either dry herb or extracts well, but PAX has done a great job at having both mediums vape great in the PAX 3.
Half-Pack lid for small sessions
The PAX 3, like the PAX 2, absolutely needs to be packed tight to get the quality vapor we talk about loving from this vape. Now with the Complete Kit, a Half-Pack lid is included - letting you pack half the dry herb and get the same quality session you would expect from a tightly packed, full oven.
You're covered
We're an authorized reseller of PAX Labs products, which means your PAX 3 is covered by a 10 year warranty and, like everything we sell, our 100% Satisfaction Guarantee. 
What's in the box

Complete Kit

Basic Kit

PAX 3 Vaporizer
✔
✔
Charger
✔
✔
Flat Mouthpiece
✔
✔
Raised Mouthpiece
✔
✔
10 Year Warranty
✔
✔
Cleaning Kit
✔

✔

Standard Oven Lid

✔

✔

Half-Pack Oven Lid
✔
Concentrate Insert
✔
Extra Screens
✔
Multi-Tool
✔
Carrying Pouch
✔
Technical Specifications
Height 4 1/8 in / 10.48 cm
Width 1 2/5 in / 3.56 cm
Depth 7/8 in / 2.22 cm
3.35 oz / 95 g
18650, 3500mAh Battery
360 - 420° F / 182 - 215° C
4 Temperature Settings
Dock Charging
10 Year Warranty
Customer Reviews
Write a Review
Ask a Question
Filter Reviews:
vape
price
customer service
Shipping
vaporizer
charge
flower
planet
everything
purchase
08/03/2020
Elias U.
United States
Perfect
This is a great product and would highly recommend if you are looking for a vaporizer!
08/02/2020
Sydney S.
United States
I really liked it but. . . .
The product itself is amazing. But, the oven lid fell off whilst I was out one day. I though it would be an easy fix but I messaged customer service through e-mail, instagram and Facebook and never heard anything back about getting a replacement. It's been almost a month. I only got to use the PAX for a week. :(
08/05/2020
Planet Of The Vapes
Hi Sydney, I just looked up both your name, your order number and your email address and couldn't find any correspondence from you but I am here for for you now. We'll get this squared away you. Creating a service ticket for you as we speak. Talk to you soon, Larry
08/02/2020
Jose F.
Costa Rica
Simply perfect
Got my Pax 3 Complete Kit and I must say I am so happy made that choice! Works perfectly, heats up super fast and with the app you can completely personalize it to your taste! What a great purchase!
08/02/2020
Staci F.
United States
Perfect for my needs <3
I tried the Arizer Solo 2 first, and couldn't get the hang of it, so I tried the Pax 3 next and it has become my bestie. I use it almost daily. It's portable, discreet (everyone who has seen it agrees that you'd never know what it actually was by looking at it), it heats up nicely, gets plenty hot, huge clouds. It's important to keep it clean for best flavor. It's so easy to use! I love the teal color. It's so tiny so fits anywhere easily. I use BudKups with it and just swap them out whenever. Beautiful little device.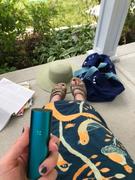 08/04/2020
Planet Of The Vapes
Not only a beautiful little device but a great pic as well, Staci. Kinda makes the viewer go, AHHHhhhhhh....... Enjoy, Larry
08/02/2020
Scott R.
United States
Love It!
I love the Pax 3 that I purchased. It's easy to use and really takes all the harshness out of smoking. I'd recommend it without exception.