Go to our Canadian store
Free shipping anywhere in Canada
Buy in Canadian dollars
Order ships from our warehouses in Canada - no delays at customs
Visit Canadian Store
Shop with the most trusted vaporizer store
Who is it for?
The Storz & Bickel Plenty is a great choice for vaporizer enthusiasts who are typically tied to one spot. It provides some of the best cooled vapor on the market, with excellent flavor and big clouds, thanks to dialed in hybrid heat. It's a great choice for people who want something to pass around the couch, or leave plugged in by their bed, thanks to its automatic shut-off. It's also the least expensive vaporizer from Storz & Bickel, if you're interested in seeing what all the fuss is about with this premium brand.
Tasty, efficient hybrid heat
Flavor is at the top of the list for the Plenty vape. Its metal coil cools the vapor extremely efficiently, so your flavors will come through loud and clear. Just make sure not to touch it while you're vaping, it can get pretty hot. You can draw as fast, or as slow, as you like, and it will still impress you with dense, luxurious clouds.
Unique look
It looks a bit different than most vaporizers, with an exposed metal coil protruding several inches from the top, and a bright orange handle to activate the heater. Despite its looks, it boasts the same excellent materials and high quality construction we're used to seeing from Storz & Bickel. It has no electronic components, making it extremely consistent and durable, and it plugs right into the wall, so you don't have to charge any batteries.
Idle controls
The Plenty Vaporizer also doesn't have controls like most vaporizers do. You set the heat on a scale of 1-7 with a wheel on the side, and watch an analog "bike pump" type temperature gauge on the front. When it reaches the target temperature, a red light on the front will turn off with a click. After some time, it will turn off the heat and start cooling off, but you can activate it again by giving the handle another squeeze.
Medical grade materials
Storz & Bickel takes great pride in their material selection, and it shows in all of their products. The Plenty is made without any glass, so it's extremely durable, and none of the parts will let off any hazardous or odorous fumes or materials when heated. If you're concerned about material safety, the Plenty and its siblings are made with medical grade materials and are backed by numerous safety certifications.
Warranty
We're authorized retailers of the Plenty vaporizer, so your purchase will be covered by Storz & Bickel's three year warranty. Like any vaporizer purchased from us, it's also covered by our 100% Satisfaction Guarantee.
What's in the box
1 x Plenty Vaporizer
1 x Filling Chamber
1 x Cooling Coil
1 x Mouthpiece
3 x Normal Screens
1 x Liquid pad
1 x Tubing section (long)
1 x Tubing section (short)
1 x Cleaning brush
1 x Storz and Bickel Grinder
User Manual
Technical specifications
Dimensions: 6.1" x 8.9" x 2" (15.2 cm x 22.6 cm x 5 cm)
Weight: 1.5 lb (0.68 kg) plus power cord.
Heat up time: 3 minutes
Power: 110 volt power cord with US plug.
Temperature range: 266°F to 395°F (130°C to 202°C
Made in Germany by Storz & Bickel
Warranty: 3 years
Customer Reviews
Write a Review
Ask a Question
Filter Reviews:
parts
vape
chamber
clouds
session
planet
Volcano
company
Temperature
draw
06/02/2020
Anthony M.
United States
Good price on an excellent vape
I've had a ton of Vapes and I really like my Ghost MV1 but my Plenty is just perfect. It doesn't burn and nice mellow experience.
06/02/2020
Michelle T.
United States
Best Table Vape Ever but needs a stand
I literally love this thing. The draw is so natural and produces large hours of vapor. Heats quickly and evenly, cleans super easily. It does not stand up on its own, needs a small stand.
AMAZING EXPERIENCE!!
Quick heat up time! Amazing quality!! very Descriptive manuals. When I took my first draw of my Plenty I realized why it's named the plenty, SO MUCH VAPOR PRODUCTION. Not to mention that I received my order in under a week during a pandemic!!! So THANK YOU PLANET OF THE VAPES!!! I look forward to receiving my Volcano Hybrid from you guys. It's been a pleasure doing business and I look forward to buying my vapor products from here in the future!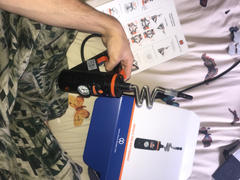 05/18/2020
John B.
Canada
Awkward but effective
Vendor did not deliver the advertised and pictured grinder, and has not provided the $20 gift card they promised instead. I was told by vendor that I should refuse the shipment, as they were already in the process of fulfilling when I cancelled. I felt that was the irresponsible thing to do in a pandemic, and am unable to refuse contactless deliveries—so beware the vendor. Great for vaping large sessions. Get the chamber/bowl reducer, or get used to being too medicated and vaping a bit more quantity than normal. Must fill bowl—about 1.5 tsp of herb a shot, .3-.4 g's. Hits like a hammer. Does not stand up safely, like in pics, but is fine laying down. Powerful heater, thick and awkward power cord. Tube and connectors loosen up a bit when they heat up deep into sessions, so it needs to be pushed back in—minor inconvenience, and a very well engineered flexing point to avoid breakage... The tube can be re-shaped, but is very rigid—so this is a two-handed medicator. Customize it with a flexible tube and a stand, and it becomes more convenient. For the price, this should be included.
05/23/2020
Planet Of The Vapes
Hi John, Really sorry about what happened here in regards to the gift card. If you haven't received it yet, please contact us here and we'll get it right out to you: https://www.ca.planetofthevapes.com/pages/contact-us Please stay safe out there. With best regards, Larry
04/20/2020
DONALD C.
United States
Great for groups!! Lengthens the bowl.
Fantastic! More than expected.