It's easy to overlook the Plenty in the Storz & Bickel lineup. Next to the legendary Volcano vaporizer and powerful, portable Mighty, the Plenty's metal coil and big orange handle aren't exactly eye-catching. But Plenty owners know the truth -- this slightly odd vaporizer actually packs in some big clouds, and provides some of the coolest vapor on the market, and our review will show it.
For those looking to see what all the fuss is about with Storz & Bickel, without spending top dollar, the Plenty isn't just a great entry-level vaporizer, it might just be your new favorite vaporizer, if you can live with some of its quirks.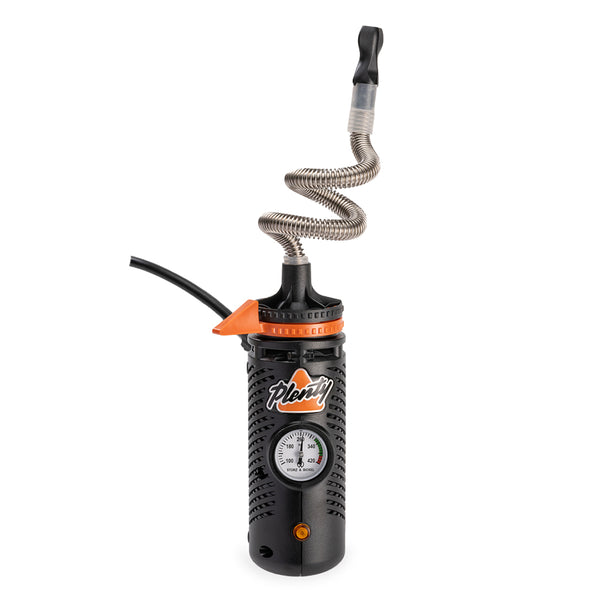 $199.00 Regular price: $249.00
The Plenty vaporizer is a great intro into Storz & Bickel's top-notch quality.
Cool, tasty vapor
Medical-grade components
Unrivaled, desktop power
Massive oven
Efficient hybrid heating
Use code S&B20 for 20% off!
SHOP NOW
Free Shipping
Easy Returns
World Class Customer Service
What is a Plenty vaporizer?
The Storz & Bickel Plenty vaporizer heats dry herbs instead of burning them, even though it looks like a Black & Decker power tool. It has a bowl the same size as the Volcano, and hits just as hard, but without the bag. The vapor is excellent, but the controls are clunky. It's not portable, but comes with a long power cord.
Impressive vapor
Even novice users will be able to take thick, tasty vapor from the Plenty. It has a propensity for remarkably cool clouds without any resistance. The vapor is smooth and flavorful, thanks to the exposed metal cooling unit on top, but if you're just trying to impress with sheer size, the Plenty's clouds will deliver. It also has a huge oven, similar to the Volcano, so it's a great choice for users who need a serious session.
Efficient hybrid heat
The Plenty uses a large heat exchanger down in the base to provide plenty of convection heat at the beginning of the session, similar to the Storz & Bickel Volcano. As the metal ring and screens get hotter, they add conduction heat to help produce thick, rich clouds, and ensure full extraction. You can slowly turn up the heat over the session to keep the party going for a surprisingly long time. Even near the end of the bowl, where taste starts to fall off, the Plenty keeps producing vapor.
Wide open airflow
Where some convection vaporizers require slow draws or careful breathing, the Plenty has barely any resistance, and requires no technique. You can draw very slowly, or pretty hard, and still see impressive vapor. If you start to draw too quickly, the cooling unit will make a slight whistling noise telling you to draw just a little slower for the right hit.
The orange handle
In addition to its intriguing look, the Plenty vaporizer has a unique control scheme. The power switch on the side turns it on, but it won't start heating up until you squeeze the orange trigger on the handle. The light on the front, under the temperature gauge, will turn on when the heating element is on, and turn off when it's ready to vape.
Dead man's switch
Every time you squeeze the trigger, the Plenty heads towards its target temperature. After a short time without anyone pulling the trigger, the heat will start to drop, but squeezing it again will re-engage the heating element. It's great for situations like watching a movie, where you might only hit it every once in awhile, or by your bed, where you can just let it cool down once you go to sleep. On the other hand, it can be frustrating if you forget about it for a few minutes, because you have to wait for it to come back up to temperature, but we'll come back to that.
Hot metal, cool vapor
We should probably the address the elephant in the room -- the Plenty's coil. The exposed metal might look a little different, but it cools the vapor in a way that few other vaporizers can match. The vapor bounces around the ridged, coiled metal, transferring any heat outward and cooling rapidly. Just watch out, as the metal itself can get hot to the touch after a few minutes of use, but cools down fairly quickly.
Low temperature, full extraction
You control the temperature with a small wheel, marked one through seven, on the left side of the Plenty that translates to a temperature range from 266° F to 396° F. The highest temperature is lower than the Volcano's, but the Plenty still manages full extraction by adding conduction heat.
Some patience required
The Plenty takes just under three minutes to reach heat level six, or 374° F. That's a little slower than most vaporizers, but similar to the Volcano. The Plenty doesn't work like most vaporizers, however. It reaches the target temperature, then the heat shuts off, but it continues to climb slightly before dropping back down. There's no good way to dial in a specific temperature for an entire hit.
It cools down slowly, so as long as you catch it within a few minutes of the heater turning off, it will be back up to temperature in just a minute or two. If you forget about it for more than that, the temperature will drop low enough that it will take a few more minutes to get back to vaping temperature.
Useful accessories
Like the other Storz & Bickel vaporizers, the Plenty includes, and works with, a number of useful accessories. The two piece plastic grinder produces a medium grind that work excellently in the Plenty, and a small wooden brush to clean your screens after every session. The Plenty also includes three more screens, in case you need to replace them.
Certified for peace of mind
Storz & Bickel has a high quality standard that will put your mind at ease. It's certified by a number of European material and design safety agencies, and every Plenty vaporizer is designed and manufactured in Germany. There's also no glass or electronics in the Plenty, which should help it last an extremely long time.
Size
Dimensions: 6.1" x 8.9" x 2" (15.2 cm x 22.6 cm x 5 cm)
Weight: 1.5 lb (0.68 kg) plus power cord
Warranty
Storz & Bickel covers the Plenty against any defects or workmanship issues for three years after your purchase. If you buy your Plenty from Planet of the Vapes, it's also covered by our industry-unique 100% Satisfaction Guarantee.
What's in the box
1 x Plenty Vaporizer by Storz & Bickel
1 x Filling Chamber
1 x Cooling Coil
1 x Mouthpiece
3 x Normal Screens
1 x Tubing section (long)
1 x Tubing section (short)
1 x Cleaning brush
1 x Storz and Bickel Grinder
User Manual
For best results
Proper grinding and loading are crucial to the Plenty experience, and Storz & Bickel makes the first part easy. The included grinder produces a medium grind that works excellent with the Plenty. Loading is a little more involved, as the herbs need to cover the entire screen, otherwise hot air will just pass by without vaping them. You need to fill it all the way up, or fill it halfway and put a concentrate pad (sold separately) against the top screen. It's not terribly complicated, and the diagrams in the included quick start guide can help you figure it out.
Cleaning and maintenance
Cleaning the Plenty vaporizer is easy, thanks to a detachable oven and cooling unit. Our full cleaning guide will walk you through a complete disassembly, but we do have a tip to help minimize deep cleaning. After a session, wait a few minutes for it to cool down a bit, then use the included brush to clean out the oven. Any leftover bits will stick to the screens, affecting flavor and airflow, so it's worth taking a moment to brush it out before it sets.
Who is the Plenty vaporizer for?
The Plenty is an excellent vaporizer for anyone looking for top-notch vapor who doesn't mind being tied to an outlet. It's a great addition to a home theater, living room, or covered patio, where everyone can hang out, pass it around, and enjoy a leisurely session without any tutorials. It also makes a great bedside vaporizer, where you can just squeeze the handle every once in a while for a hit. Its $249 price tag is the most wallet-friendly of all the Storz & Bickel vaporizers, so if you're curious what all the fuss is about, this is a good place to start.
Who is the Plenty not for?
The Plenty's slow heat up time and automatic shut off aren't for anyone who lacks patience. Its control are easy to understand, but if you aren't actively vaping, or passing the Plenty around, you may end up having to wait on it from time to time. It takes a lot of herb for each oven, even with a concentrate pad (sold separately) taking up half the space.
Is the Plenty better than the Mighty?
The Storz & Bickel Plenty vaporizer is like a bigger, plug-in Mighty, but with weird controls. The hits are big, tasty and cool. The Plenty bowl holds about three times as much as the Mighty, but the Mighty is portable. The vapor quality is similar, so it comes down to whether you want a portable or plug-in vape.
Our take
The Plenty is one of the most underappreciated vaporizers you'll come across, if you're all about the vapor. It delivers some of the coolest, thickest hits around, but is held back by its truly awkward controls. It vaporizes through a small range of temperatures instead of hitting a set point, and you have to keep clicking the handle every few minutes between hits if you want it always ready. It might not be as flashy as the Volcano, or as easy to use, but at half the price, it's sure to put a smile on your face.