⚠️Special Deal⚠️ Receive our POTV Glass Accessory Adapter for PAX, plus a Dimpled Glass Stem, Curved Mini Bubbler, and Water Pipe Adapter for FREE with every PAX Plus! Only while supplies last! (worth $54.80)
Shop PAX Plus Now
Harness the full power of your PAX vaporizer with the POTV Glass Accessory Adapter and our collection of specialized glass accessories. Swap this in place of the standard mouthpiece and insert one of our glass attachments for smoother, more versatile sessions, all without disrupting the PAX's stylish design and simple controls.
Controls stay the same
Press down on the glass attachment, like normal, to turn it on, adjust your settings, and turn it off. When you're ready to change things up, remove the glass piece and switch gears in a matter of seconds. This is the surefire way to unlock the full potential of your PAX vaporizer.
Made for PAX dry herb vaporizers
We developed this adapter for PAX's entire line of vaporizers, new and old.

Compatible with:
Expertly designed with the user in mind
Our line of glass accessories, until recently, has been an exclusive to our Planet of the Vapes ONE vaporizer. We received a lot of positive feedback on not only the vaporizer but the glass accessories as well, so we expanded with an accessory attachment for the V3 Pro, and finally the PAX lineup.

Our team of experts collaborated for months and multiple iterations were developed before we finally landed on this finished product. Attachments already existed on the market but they limited the PAX with designs that were either too bulky for a pocket or completely rendered the controls useless. So our goal was to develop an adapter that was sleek, seamless, and didn't disrupt the PAX's stylish flow.

What we have now is a product that we're proud and extremely excited to share with you whether you're a seasoned PAX user or brand new to the scene.
👉
SHOP GLASS ADAPTER FOR PAX
Here's why you need it
We don't want you to be tied down to one type of experience. Our Glass Accessory Adapter serves a multitude of purposes and opens the doors to new possibilities.
Unlock the full potential of your PAX
PAX sessions excel at easy going, slow sip sessions, but are pretty limiting if you want to push it a little further or just spice things up. This adapter provides a solution with an array of glass accessories that specialize in a variety of unique experiences. Go from a slow, relaxed session through a dry stem to a thick, cloud-driven session through a glass bubbler with the water pipe adapter. When it's time to hit the road, take your filtration on the go with one of the mini bubblers. Our goal was to offer as many different experiences, all in one vaporizer, and that's what the Accessory Adapter is all about.
With cooler, more comfortable vapor
PAX vapes have limited cooling so cooler, comfortable vapor is a huge advantage with our accessory adapter. A dimpled glass stem comes standard with the adapter, so even if you don't pick up one of the bubblers or water pipe adapters, this stem alone provides cool, comfortable vapor.

When you're ready for a little more, our mini bubblers are easy to fill, spill proof, and provide tasty, effective vapor on the g. And don't forget about the water pipe adapter for sessions through your favorite glass rig.
Great for sharing
Sharing is caring and the Glass Accessory Adapter allows you to hygienically swap mouthpieces between family or groups of friends. Just pass the PAX around and let the next person plug in their own glass attachment.
What are the glass accessories?
Our collection of glass accessories includes five different types of attachments, each made to serve different purposes.
Cooling stems
The included Dimpled Glass Stem is shorth and discreet, but effective. It provides a flavorful experience without drawing too much attention to itself and comes with a maze of internal glass dimples to cool your vapor as it travels to your lips.
The Bent Glass Stem is also a discreet and effective option. This stem is comfortable on the lips and comes with a slightly longer vapor path that cools your vapor and conveniently reaches towards your lips like a bendy straw.

Mini bubblers
The Mini Bubbler is great for on-the-go filtration and large hits. It comes with a slightly bigger mouthpiece that's great for taking big hits, it's easy to clean, and is also spill proof for those sessions out and about.
The Curved Mini Bubbler is our other spill-proof bubbler that suits slower, more easy-going sips and sessions. Its curved shape comes to a narrow point and tilts towards you for a more comfortable experience wherever you are.
Water Pipe adapter
The Water Pipe Adapter is your go-to accessory for prime sessions through glass bubblers and table-top rigs. It comes with 10mm, 14mm, and 18mm connections to connect to just about any glass bubbler out there.
Personalize your setup with our colored Glass Accessories
If you're in the market for some new glass accessories for your PAX, consider personalizing your setup with one of our colored glass stems and bubblers. Enjoy a calming, sky Blue or an Earthy, Green edition of our Bent Glass Mouthpiece, Waterpipe Adapter, Mini Bubbler, and Curved Mini Bubbler. (Glass Accessory Adapter for PAX required)
Bundle up and save
When you're ready to get started, check out these premade bundles to start your collection.
The Optimum Bundle
The Optimum Bundle includes the Glass Accessory Adapter with a dimpled glass stem and the essential glass accessories to upgrade your sessions from the get-go.
The Optimum Bundle includes:
POTV Glass Accessory Adapter for PAX
FREE Dimpled Glass Stem
Curved Mini Bubbler
Water Pipe Adapter
$34.00 Regular price: $54.80
SHOP NOW
Free Shipping
Easy Returns
World Class Customer Service
The Ultimate Bundle
As its name suggests, this is the ultimate bundle to take your PAX sessions to new heights with everything you need for a variety of specialized experiences.
The Ultimate Bundle includes:
POTV Glass Accessory Adapter for PAX
FREE Dimpled Glass Stem
Bent Glass Stem
Mini Bubbler
Curved Mini Bubbler
Water Pipe Adapter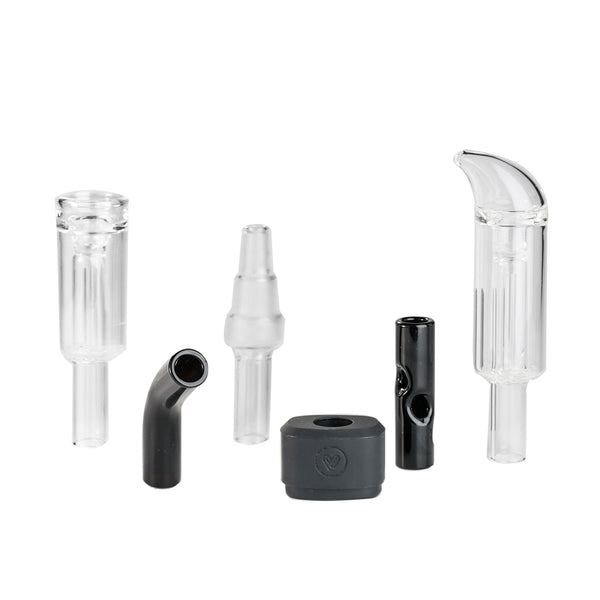 $54.00 Regular price: $84.70
SHOP NOW
Free Shipping
Easy Returns
World Class Customer Service