**The IQ vaporizer has some features only accessible via a smartphone app. On November 15th, 2019, Apple removed all vaporizer apps from its store. Apps that were downloaded before removal will still work. Android users are not affected. Please read our blog post to learn more about the app removal, and how it affects specific vaporizers.**
The DaVinci IQ is a conduction vaporizer with features like no other. Sleek, amazingly easy to load and a swappable 18650 battery puts the IQ in the top level of portable vaporizers available right now. Control everything right on the device or link up the user friendly app to dial in vapor the way you like. DaVinci Vaporizers has included features we have not yet seen like their Smartpath Technology and a Flavor Chamber for easy reclaiming.
Premium features and a quality build don't come cheap, and the DaVinci IQ's premium price point means this portable needs to meet expectations and then some. We've had a chance to give the IQ a rigorous test and we're going to run through all the details so you can see if it's right for you.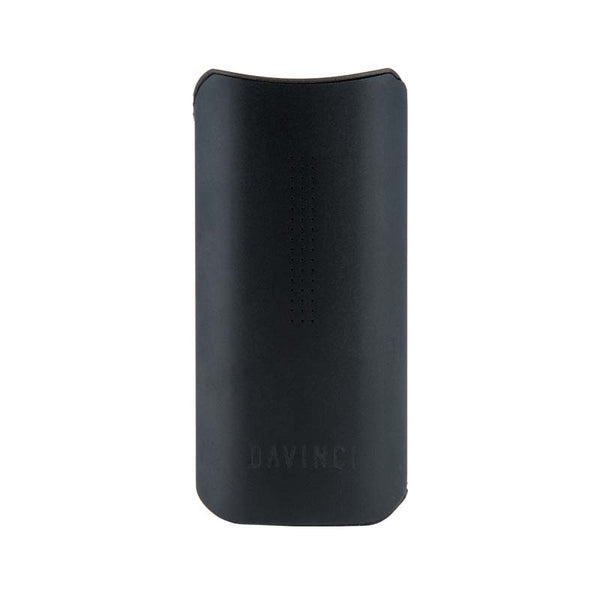 $229.00 Regular price: $274.95
SHOP NOW
Free Shipping
Easy Returns
World Class Customer Service
Table of contents
Smooth vapor, amazing taste
DaVinci went all out on the design with the IQ in search of properly cooled vapor for unadulterated flavor. They used a ceramic oven and ceramic zirconia parts, so no part of the vapor channel adds off flavors. Still not satisfied, DaVinci went ahead and continued to add three cooling methods.
The oven is at the opposite end of the mouthpiece, like the Pax vapes, giving the vapor plenty of room to cool down. The Flavor Chamber, which we'll discuss further below, has a lot of open space in it for vapor to expand and cool. Finally, the mouthpiece has a baffling unit that makes sure any remaining heat doesn't make it to your lips.
Any one of these would cool the vapor well enough, but DaVinci made sure harsh pulls would never be a problem. As a result, the IQ tastes great at higher temperatures, and for longer than other conduction vapes. That alone would be enough to earn praise from us, but the IQ has another trick up its sleeve.
Controls and app
**On November 15th, 2019, Apple removed all vaporizing apps from its store, including this IQ app. It might not be permanent, but we are planning on an extended absence. The IQ works fine on its own, but can't be customized with the app on an iPhone, unless it was downloaded before November 15th. Android users still have access to the app.**
The controls on the unit are smart and unique, without sacrificing functionality. The grid of 51 lights on the display are inconspicuous until turned on, and then show everything you need to know like temperature, battery level and boost mode. It has haptic feedback, which has almost become a must, to let me know when it is up to temp or turning off.
A required smartphone app can be cumbersome, turning a one-hand job into a complex process. DaVinci sets itself apart with an app that does its job, and gets out of the way. Not only does it control the settings you'd expect, but it sets itself apart with some really unique features.
A big part of that advantage comes from DaVinci's Smart Paths, which allow you to plan out your own temperature changes and settings, then run them like a program for your vaporizer. In their default state, the smart paths boost the temperature over the period of a session. Just pick your preferred smart path or create your own and let the IQ do the rest.
Best of all, after you change the pre-programmed Smart Paths, the IQ remembers them so you don't need the app for them anymore! Whether that's a program that slowly bumps your temperature over the course of a session, or one that keeps the heat low to highlight flavor, it's easy to create your own Smart Paths and share them with others.
Swappable battery
The IQ sets itself apart as a premium portable with an easily swappable battery. The sessions can go as long as you can. Just pick up an external charger and an extra battery or two and you'll always be ready.
Replaceable batteries ensure that you won't ever be stuck with a $300 paper weight. Lithium ion batteries typically last 500 charge-discharge cycles, so you'll never have to worry about your vaporizer dying after a year or two because you like to vaporize. And you're doing the right thing for the environment because you'll never have to throw out a functioning vaporizer with a bad battery.
DaVinci went overboard to ensure battery life wouldn't be an issue, opting include one of the best rechargeable, swappable batteries on the market. With the included battery, I got about 8 sessions, or 80 minutes of runtime on a full charge.
This battery takes nearly 4 hours to charge in the IQ, and about half that externally. All your batteries can be charged in the IQ via microUSB or in an external charger (sold separately), and the IQ will work with any 18650 battery over 10 amps. Pick up a few extra batteries, and you won't find yourself short of power anytime soon.
Flavor chamber
The Flavor Chamber is a really cool idea with lots of possibilities that I've only ever seen done with one other vaporizer. Remember those pipes that had a chamber in them between the bowl and the mouthpiece that you could put herbs in so they would get more potent for a later session? That's the idea here.
Sitting directly between the oven and mouthpiece, the Flavor Chamber allows you to infuse your vapor with your favorite herbs, or load with herbs to coat them in the sticky residue from your session.
I like to leave it empty so the vapor cools easily, and then scrape the insides of the chamber to reclaim the residues.
No matter how you decide to use it, the Flavor Chamber is new to the game, opening up some creative options for your vaporizing experience. It's a versatile value-add you won't find elsewhere.
Size
The IQ has a comfortable shape and pleasant feel. It's shaped like DaVinci's second vaporizer, the Ascent, but much smaller.  It has nice curves that feel good in my hand and it is easy to slide into my pocket.  The brushed anodized aluminum shell is just right, not too smooth and not too rough. With the flat mouthpiece installed, I can almost completely conceal the IQ in my fist and still take a hit off it.
Size specs
Weight 5.1oz  / 145g with battery

Impressive design
As portable vaporizers grow into the mainstream, they're quickly becoming more stylish. The DaVinci IQ stands out with an attractive, brushed aluminum finish that conceals well and strikes an elegant figure.
Open up the magnetic end caps, and it's obvious some serious engineering went into the design. The mouthpiece end gives you access to the Flavor Chamber and the battery compartment while the other hides the oven.
When you open it up you are greeted by a loading dock with a mirrored finish that easily guides your herbs into place. It's the first vape I've ever had that I actually enjoy loading up!
From here you'll see the adjustable Pearl, a ceramic zirconia spacer that can reduce the bowl size by 30 percent without sacrificing a tight pack.
Durable
This little thing is tough -- made of metal tough. There is one piece of plastic separating the battery compartment from the Flavor Chamber, and that's alI I could find. Everything else is ceramic zirconia or sturdy metal.
The doors and hinges are all metal as well, so nothing feels fragile or cheap. It helps that the entire unit is a solid piece, without a lot of empty space or moving parts. Portable vaporizers need to be tough to sustain an active lifestyle, and the DaVinci IQ should be able to go the distance.
Warranty
Not to be outdone here either, DaVinci rolls out the IQ with a best-in-class, 10-year warranty on workmanship and defects. Normal wear and tear on the bowl and mouthpiece hinges is not covered, and they're not going to cover whatever happens when we don't clean the IQ often enough, but this warranty should make you feel at ease. Like all of our products, the IQ is covered by our 100% Satisfaction Guarantee.
What's in the box
DaVinci IQ Vaporizer 
Sony 3500mAh 18650 Battery
USB Cable
Cleaning Swabs
Cleaning Brush
10mm Mouthpiece 
Keychain Tool
Carry Can
Owner's Manual
For best results
After all is said and done, the IQ still a conduction vape that likes to be packed similar to the PAX and Flowermate type of devices. That means a medium or tighter pack, with either ground or whole herbs, although a finer grind performs better. If you aren't loading the oven very full, it's better to pack it down tightly, but if you're filling it all the way up, just give it a nice, medium tamp with the pearl.
Although you may be able to draw quickly, that heat won't permeate the entire oven for another minute or so, which is when you can expect thicker draws. If you're using the flavor chamber to imbue your herbs, we recommend packing it lightly so it doesn't obstruct airflow. It's a good idea to use it a few times without anything in the flavor chamber first, to get an idea of how it effects the draw.
On a similar note, the mouthpieces offer different user experiences, and the only way to find out which you like is to try them both out. I ended up preferring the flat mouthpiece for the discrete feel that matched the stemless, natural hit from the Magic Flight Launch Box, or the Ascent with the mouthpiece retracted.
Cleaning and maintenance
Cleaning is easy, as everything is within reach, and anything that can be removed, except the battery, can be soaked in isopropyl alcohol (ISO), preferably 91% or higher. Start by unscrewing the pearl, and removing and disassembling the mouthpiece and gasket. If you're planning on taking ISO to the whole unit, make sure to salvage any residue from the Flavor Chamber before the soak.
After a solid overnight soak, make sure to rinse everything down with warm water until all of the isopropyl alcohol is gone, and dry thoroughly before reassembling everything. The outside of the unit, and the loading dock, are easily cleaned with an alcohol swab.
Davinci IQ vs PAX 3
The DaVinci IQ and the PAX 3 both retail for the same price, come with a 10-year warranty to cover defects, and rely on conduction heating with some really smart features.
These two start to stand apart when looking at the ability to use concentrates, interchangeable batteries, ease of loading, and of course, form factor.
---
---
Expectations
There is no perfect vape, it's about which is best for you and how you like to vape. We don't want you buying the Magic Flight Launch Box expecting to get clouds like the Volcano, or a Flowermate expecting it to taste like a Firefly. The following tips should give you an idea of what to expect from the IQ in terms of performance and its idiosyncrasies.
     

It's a conduction vape, so you'll need to grind fine and use a medium tamp for best results

      You will get longer lasting flavor with the IQ than a conduction vape like the Flowermate or similar.

     

It has more bells and whistles than any other vape out there, and should keep you entertained. That includes features like the Flavor Chamber, smartphone app, Smart Paths, and Boost Mode

     

The pearl can be hard to unscrew at first. It's easier to set after loosening it the first time.

     

The battery charges slowly in the unit, so get some extras and an external charger to maximize your power!

     

The battery lid can be finicky, but you'll get used to it quickly.

     

It's super easy to load.

     

The IQ gets pretty warm to the touch after a long session. Take that into account if you are very sensitive to warm/hot things.

     

Currently, the power button is a bit of a pain.  Right now I click it five times quickly, and if I mess up my rhythm it won't register the presses, so I just push it a bunch of times until it turns on/off.
Who's this vape for
The IQ is a great all-around, portable vape that should satisfy a lot of users. It's easy enough for beginners, but has a lot of features that matter to seasoned vaporists. It scores big when it comes to style and durability, crucial points for any portable vaporizer. When it comes to versatility and one-of-a-kind features, the DaVinci IQ is unmatched.
The IQ also boasts one of the most full-featured apps around, without needing to have your phone out the entire session. I don't think many people are going to have problems using this vape, and the swappable batteries mean it will keep chugging long after you're set.  If you can afford it, it should serve you well for a long time, and it's a lot of fun to show off to friends.
Who's this vape not for
The biggest knock against the IQ is that it lacks support for extracts. I tried it with some concentrate wrapped in a fiber filter and it worked well, but it stained the oven. This method works to an extent, but it's not meant to, and I don't expect a concentrate accessory to come out for it. DaVinci wanted the IQ to excel at dry herbal blends and they focused on that.
After all is said and done, the IQ is a conduction vaporizer, and though better than most still requires a nice grind and tamped pack for the best results. Like 99% of conduction vapes the IQ will continue to heat your herbs when you're not hitting it and does its best work with a fully loaded chamber.  
Final thoughts
I'm a sucker for great tasting vapor from stylish portables, so this one is already one of my favorites. I have very few complaints about it and they are all minor. The price is on the higher side for a vaporizer, but it has a number of unique, creative features that are sure to keep you finding new delights well after your first purchase it.
With boost mode and Smart Paths, I'm able to vape in ways I've never tried before, and the Flavor Chamber brings a whole new level of fun to the table. Between the fantastic smartphone app, picture perfect flavor, and user replaceable batteries, the DaVinci IQ definitely deserves consideration for a spot in your pocket, particularly if you're a perfectionist who finds yourself tampering with your temps all the time.