Get ready for a new best friend! The Vapman dry herb vaporizer will draw you in with its ritual and artisan craftsmanship. Whether you want to microdose your herbs, or just get away at the end of the day, the Vapman will help you relax into a mindful session.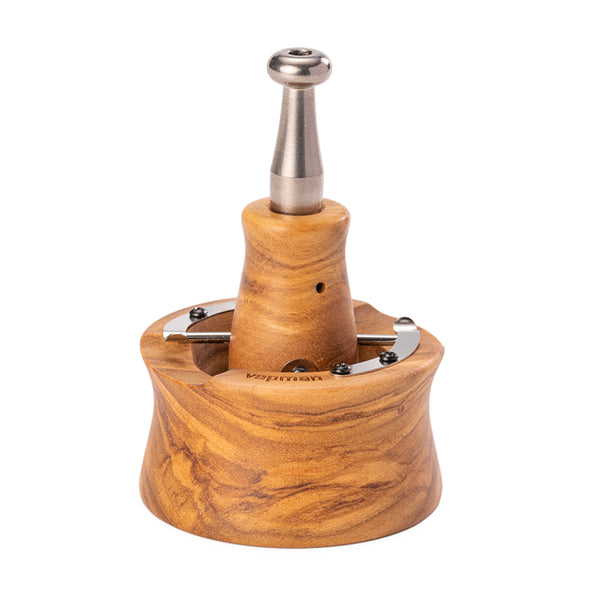 Starting at $151.95 Regular price: $189.95
A handmade, Italian vaporizer made for peak efficiency and mindful sessions.
Torch-powered sessions ready in seconds
Small oven perfect for microdoses
Unmatched efficiency
Durable and pocketable
Handmade in Italy
SHOP NOW
Free Shipping
Easy Returns
World Class Customer Service
Vapman Vaporizer Review: Fantastic taste is up to you
The Vapman dry herb vaporizer is manually controlled, so the quality of your hit is up to you. But the sweet spot is wide, and I really enjoyed the taste, whether it be at the low or high end of the temp spectrum. After a short learning curve, my sessions were consistent with two or three hits of amazing taste, followed by one or two hits to finish it off. I was surprised that my herbs didn't combust during tests (until I tried to), since it doesn't have an audible temperature alert like the DynaVap vaporizers.
Torch powered
The Vapman is powered by a jet flame torch lighter, included in the package. The Vapman won't perform with a bic or typical flame lighter, but don't worry - the little torch is not intimidating. I can completely conceal it in my hand. And it's a fantastic lighter.
I don't want to go overboard on something seemingly little like a lighter, but I've had one for years, and it's my favorite. I have dozens of similar lighters, but none of them are as reliable as the Vapman lighter. I use it with all my torch powered vapes. I love that Vapman understands the importance of a good heat source, and they sourced an exceptional lighter.
Manual temperature control
The Vapman's manual temperature control was easier to master than I expected. If you follow the instructions about flame length and placement, there's a pretty wide window of time-to-heat for great vapor. It goes from super tasty to thick in as little as three to eight seconds.
Set the flame length to about one and a half centimeters, or the width of the screen on the bottom of the mouthpiece (that's a nice way to measure anywhere). Aim the flame at the point on the very bottom tip of the bowl for about five seconds, and have at it. Successive hits off a bowl heat up quicker and get thicker. Once the taste goes south, dump the Vapman out anywhere and tuck it away, or keep on going. It's pretty easy.
Thoughtful artisan craftsmanship
The Vapman is absolutely unique, and a joy to scrutinize. If you didn't know what it was, you'd never figure it out. It looks like a toy Voyager satellite, or something similarly odd. But its beauty can't be denied. Every time I use it I find myself staring at gorgeous parts and tiny details. The gold-plated bowl is stunning next to the twisting wood grains.
Designed in Switzerland
The Vapman was originally designed and made in Switzerland, and it shows. The metal parts - the bowl, springs, tubes and screws - are reminiscent of a Swiss watch with all its tiny, precision parts. The entire cone-shaped vaporizer is only two and a half inches tall, and just over one and a half inches in diameter at the bottom.
Handmade in Italy
In a nod to their new Italian roots, Vapmans are now handmade in Italy out of sustainable olive wood. Each vape is unique, with its own grain pattern. Mine has swoopy curves that smile at me from the front before they stretch around the sides and form an iridescent symmetrical "X" on the back!
Classic or Pure?
The biggest decision to make is between the Classic Vapman and the Pure. The Classic has a mica overlay that shields the interior wood surface, while the Pure just goes naked. I love the look of the Pure, and it should last as long as I don't use a multi-torch lighter - stick to the single torch. So far, so good, though. I am not a huge fan of the mica, however. It's soft and impressionable, and doesn't play well with liquids. If it gets wet, don't touch it and let it dry out thoroughly.
Made for dry herbs, but…
The Vapman was made for dry herbs, but it does really well with dry sift concentrates. Either sprinkle some on a bed of herbs, or use the concentrate/microdose screen. The screen sits on top of the center post and can vaporize ridiculously small doses, including a sprinkle of dry concentrate. Don't use too much, or you can end up with a sticky mess.
A microdoser's dream
The Vapman just might be the most satisfying microdoser vape I've come across. Any vaporizer can work with smaller amounts of herb, but do the hits satisfy? A lot of vaporizers overwhelm smaller bowls with air and the vapor quality is wispy and light. But the Vapman's diminutive style excels with smaller loads. The flavor is rich and the vapor thicker than you'd expect from microdoses.
While the maximum amount of dry herbs I would recommend that anyone pack in the Vapman is 0.065 grams, my average load size was 0.035 grams. That's a full load for my style, not a microdose! (Keep in mind that the typical "roll-your-own" contains a full gram.) I don't even have another vape that can satisfy at that load size, let alone less. I detected taste and vapor from loads as small as 0.006 grams, and the Vapman website says the microdose screen can accommodate 0.001 grams. That must be one flake!
5 to 10 second heat up time
The Vapman is incredibly quick to vaporize. A typical heat up time is between five and ten seconds, with three to four second boosters until the session ends. But there are several variables that affect this, and your heat up time may vary. Try a smaller flame with longer time, or longer flame with shorter time to mix things up. Play around and find your sweet spot. I ended up around six to seven seconds for initial heat up with the standard flame length (the diameter of the mouthpiece screen).
A captivating ritual
In today's world of distractions, what we need more than anything is to take a breath, focus, and slow time down a little. In other words, some mindfulness. The Vapman's addicting ritual helps me disconnect from my day like no other portable vape I have.

As soon as I pick it up, the gorgeous wood grains and toy-like feel draw me in to play. Before I know it, the tiny nature of the parts calls me inward. The pins-and-springs mechanism that holds the mouthpiece in place has a satisfying "click" when it locks and unlocks. And that beautiful bowl! Its gold-plated glimmer and spaceship look is fed by three tiny air intake tubes below.

Once it's locked and loaded, ignite the butane torch and point it directly on the tip of the bowl from the bottom of the Vapman, and count to six. Bring the mouthpiece to your lips and give it a go. If you want some more, add more heat and hit it again. Every step of the process leans towards mindfulness, as it captivates your focus until the herbs take effect.
End your day in style
The ritual is so good, I want the Vapman at the end of the day when it's time for myself. With or without that glass of wine, it sets the mood. This is one of my favorite vapes when I want to sit back, relax, and take my time with some aromatic herbs.
That doesn't mean it's only for nightcaps. The Vapman has a long history and a cult following that uses it as their main vaporizer. It all started in Switzerland…
The Vapman revival
Vapman started in 2005 in Switzerland where its owner, Rene, made every unit by hand for over 15 years. In 2021, the company was passed along to two Vapman enthusiasts, Michael and David from Italy. These two young vaporists have a passion that's contagious! They have learned the ways of the Vapman from its master, and now make each unit by hand in the beautiful Italian countryside. Every Vapman has a soul, knitted from the local olive wood.
What I didn't like
So far I've gushed about the Vapman, but no vape is perfect. Here's my list of gripes.
There are three little air holes in the mouthpiece that let fresh air in to mingle with the vapor. You can restrict the air flow and thicken the vapor by covering one or more of these holes during your draw. I like to cover two of them up, and it's a pain to do. It's easy to cover one, but two or three is tricky. A solution is already in place, but will require an extra purchase.
The travel case for the Vapman is egg-shaped and is too bulky to fit in a pants pocket. It's a shame because the vape itself is so tiny. However, this is another problem Michael and David have addressed, with a flatter, rectangular case that holds the Vapman with the mouthpiece detached, and it will fit in a pocket. Look for it to release soon.
The Classic Vapman has a mica heat shield on its interior side. The mica is soft and likes water about as much as my cat does. If it gets wet, let it dry out completely before you touch it, or it can peel off and bow out. If this bugs you like it does me, Vapman offers the Pure with nothing but an olive wood surface.
The Vapman is manually heated with a torch lighter, and you never truly know the temperature of the herbs. If you need that kind of accuracy, look at an electronic vaporizer.
Vapman Pros and Cons
Pros 👍
Cons 👎
Incredibly herb efficient
Small bowl is not for heavy users
Endearing, high-quality beauty and design
Manual controls can be inconsistent
Captivating ritual
Satisfying hits
No electricity or batteries needed
Sustainable design

Bottom line

The Vapman excels at smaller doses and building relationships. You'll fall in love!
Warranty
Vapman covers any workmanship and defect issues for two years. Like all of our products, the Vapman is covered by our 100% Satisfaction Guarantee.
What's in the box
Vapman classic or pure olive wood
Hemp box
Carefully selected jet lighter
Cleaning brush
Screw driver
Manual
Wood box
Stainless steel filling funnel
For best results
We'll have a full Vapman Tips and Tricks article for you soon, but for now make sure you read the directions. The manual is very clear and well illustrated, and goes over everything from flame length to heat up times.
In the beginning, err on the side of too little heat. The worst that can happen is you only get a little bit of vapor with great taste, saving the stronger hits for later. You can always heat it longer the next time, until you find the upper limit.
Easy maintenance
Our Vapman Cleaning and Maintenance Guide is coming soon, but until then, make sure to empty the bowl, and brush off the bowl and screen after each session. You'll be especially thankful you did with this vape, as it will prolong the gold finish on the inside of the bowl. It's going to change color eventually, but a clean vape is a happy vape!
Who is the Vapman for?
The Vapman excels for anyone who wants to stretch their herbs with light to miniscule bowl sizes. It should be a microdoser's first choice. It's also a fantastic portable vaporizer for your "me times". The ritual is soothing and the attention to detail will draw you in like a conversation with a good friend.
Who is the Vapman not for?
The Vapman won't satisfy larger appetites, or those who need to hit specific temperatures. The small heating chamber will frustrate heavy users as they try to "get there". The manual heat-up with fire takes precision control out of play - you can get in the zone, but not an exact temp.
Conclusion
The Vapman is one of the few vapes that's been around longer than I've vaporized my herbs. I always admired it, but didn't grab one until about five years ago, and immediately saw what the excitement was about. Now that the brand is revived and running strong out of Italy, we are excited to add it to our catalog. Artisan vapes are hard to come by, and the Vapman is an exceptional offering. If you like to get away with small doses of herbs, and don't mind the manual heat up, this is the dry herb vape you've looked for.
Vapman questions & answers
Q: What is a Vapman?
A: The Vapman is a manually controlled, butane-powered, artisan dry herb vaporizer. They have a slight learning curve, but will captivate you.

Q: Is the Vapman worth it?
A: Yes, especially if you like to microdose, or vaporize dry herbs during your "me times".

Q: How does a Vapman work?
A: Pack the bowl and attach the mouthpiece. Heat the bottom of the bowl with a torch lighter for six seconds and inhale from the mouthpiece.