The POTV XMAX Starry V4 dry herb vaporizer shines with slow, easy-going sessions that light users and beginners will really enjoy, but might not satisfy those seeking large, cloud-driven rips. With the quality and consistency of its previous iteration, this vape offers users a familiar experience and worthwhile updates and improvements.

The previous Starry V3 did a lot of things right. It offered users a high-quality session that you could take anywhere, at any time.

The latest V4 builds upon that with new features like an airflow slider, multiple session timers, USB-C charging, and more. It specializes in long, drawn out sessions that reward a more patient approach. The clouds, the flavor, and those sought-after effects are all present with the Starry if you're patient enough to learn its slow-paced dance.

Whether you're familiar with the Starry or this is your first time hearing its name, you may be surprised by its relaxing, easy-going sessions, but it's not for everyone. Let's dive in and see what it's all about.
Quick Summary: a slow sipper that delivers
The Starry V4 dry herb vape is a pleasant surprise. Being the lighter user that I am, the Starry V4 delivers all the vapor that I need in a more relaxing style and provides a few useful features and updates that I really appreciate, like an airflow slider and removable battery. Beginners and light users will appreciate its slower experience but heavier vaporists may struggle to find their sweet spot with this style of approach.
Pros & Cons
Pros 👍
Cons 👎
Great price point
Not ideal for heavier users
Strong, potent vapor
Doesn't do well with quick, fast draws
Great for beginners and light users
35 second heat up
Adjustable airflow
Removable battery
USB-C charging

Bottom line

The XMAX Starry V4 vaporizer excels at slow, easy going sessions that beginners and light users will really appreciate, but doesn't offer a whole lot to our big hitters out there that thrive with large, lung-busting hits.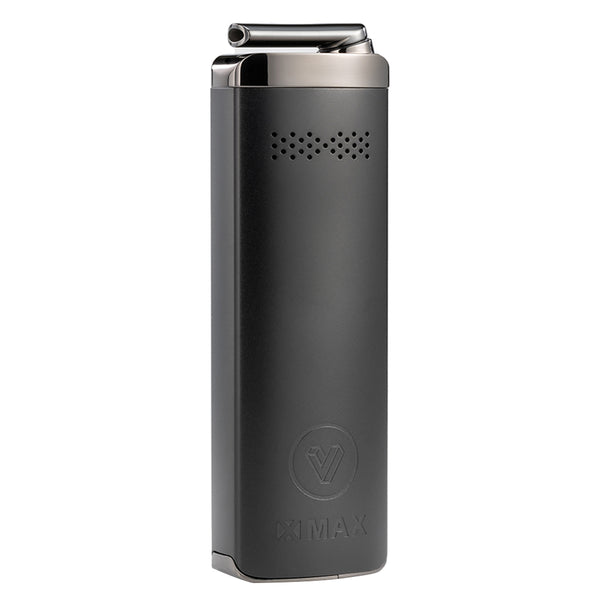 $99.00
The Starry V4 takes a popular vaporizer to the next level with upgrades and improvements.
Gentle, yet effective vapor
Adjustable airflow
Removable battery
Precise temperature control
USB-C charging
SHOP NOW
Free Shipping
Easy Returns
World Class Customer Service
Strong vapor through a slow, steady session
The latest XMAX Starry V4 vaporizer is small and unassuming in the hands, but surprises with effectively dense vapor.

I packed the oven tight and kicked my first session off at 410°F / 210°C to get a feel for its thicker, cloud-driven sessions from the get go. Once the Starry V4 hit temperature, I took a small sip and was greeted with a little bit of vapor.

This type of vaporizer performed best the longer it sat and primed itself during a session. At around the one minute mark, the loading chamber and herbs were fully heat soaked, and the bigger hits started to arrive.

This vape isn't made for large, quick draws. It's more like a hot cup of tea that you take your time with, with slower, shorter sips that only get better as it sits and primes itself in the heat.

The lower temperatures did well with visible vapor and prominent herbal flavors but those flavors didn't last long. The first few hits showcased tasteful herbal notes but quickly faded. As with most conduction vaporizers, the Starry V4 comes through with pretty reliable vapor production at the right draw speed, but compromises consistent taste at the same time.
Performs even better on a bubbler
I had the most fun with my sessions when I connected it to the Starry Water Pipe Adapter (not included). The vapor gets really hot at the higher temperatures when using the mouthpiece, but my bubbler fixed that, no problem.

Again, the first few hits were wispy, but once the oven had time to sit and prime in the heat, it really took off with a slow, consistent draw. Even with the airflow all the way open it's still a bit of a tighter sip, but the vapor was prominent and it kept up with longer pulls.

I would suggest this setup if you want those longer hits, and are patient enough to fill up with a 15 to 20 second pull. If you've got a bubbler, definitely pick up the Starry Water Pipe Adapter.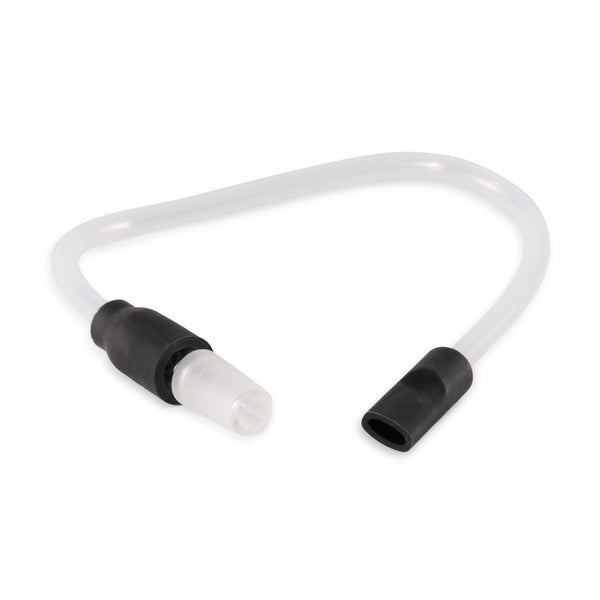 SHOP NOW
Free Shipping
Easy Returns
World Class Customer Service
Heats up in under 35 seconds
The Starry V4 is a pretty fast vape. On a full battery, it reached 390°F / 198°C, from cold, in just 23 seconds, and only 35 seconds on its very last session, right before it died. It's even faster when the oven is already warmed up.
Large oven holds a lot - over a quarter gram!
The Starry V4 works with a variety of different load sizes. Pack it full and tight if you want a longer session and stronger vapor, or pack it light if you want something quick and not too heavy.

On the top end, the Starry V4 holds up to a third of a gram of ground herbs with a tight pack. I filled the oven to the top and gave it a slightly firm tamp until it was deeper into the oven and filled it up again. I did this until it was full to the top. This type of load took a little longer to fully prime and heat up, but the vapor was potent and consistent when it was ready.

On the lower end, the Starry holds as little as 0.175 (and maybe even a little less) and produces a little less vapor throughout. I filled the oven all the way to the top, pushed the herbs down just enough to be flush with the edge of the oven, and that was it. This smaller load soaked up the heat a little faster, extracted quicker, and was decently strong, but didn't last as long.
Dry herbs only
The Starry V4 is made for dry herbs only. Previous Starry vapes came with a concentrate pad but it didn't work very well, so it was scrapped with this latest device.
Great battery life that's even better with our POTV Exclusive
For a pretty small portable vaporizer, the battery on the Starry V4 is great. I ran the battery through 10-minute long sessions at 390°F / 198°C and squeezed out eight total sessions until it died. I did the same with our POTV-exclusive battery and got an extra 10-minute session out of it, for nine sessions total.

So if you decide to buy from Planet of the Vapes, you'll get 10 whole extra minutes of runtime. Regardless of where you get yours though, the Starry V4 has great performance in this category.
Swap out your dead battery and keep the sessions going
Nothing is worse than a missed session because you forgot to plug your vaporizer in the other night. This didn't matter with the Starry V4 though because a quick battery swap is all it took to jump right back in when I needed a session.

Be sure to pick up a spare 18650 battery and have it ready to go in those dire situations.
Now with USB-C charging
The Starry keeps up with modern times and comes equipped with universal USB-C charging. Plug it in to any USB port and fully charge from a dead battery in around six hours.
Warning: DO NOT ATTEMPT TO VAPE WHILE IT CHARGES
The Starry V4 looks and acts like it can be used while it charges, but XMAX has stated that you should NOT attempt this. It could potentially ruin your battery and vaporizer.
Comes with a dosing capsule and more
The Starry V4 comes with a lot of useful accessories from the get go, including a dosing capsule. It's great for quick fill ups and can help you dose your loads more consistently and accurately. If you're planning a road trip or hike, prefill the dosing capsule to your liking and then load it up as soon as you're ready.

It also comes with a short packing tool with a tiny scoop on the end to prep and load your bowl, and a small poker/cleaning tool to remove the oven screen when you need.

A few cleaning and maintenance supplies are also included. You've got a brush, alcohol pads, and a few spare o-rings for some easy tune-ups. If you want to pass it around a group of friends, you can also throw on one of the included silicone tips for a little better hygiene.
Turn it on and set your temperature with ease
The POTV XMAX Starry V4 maintains controls reminiscent of the original, and I really like them. They're straightforward and everything I need to know, from current and set temperatures, battery life, and time remaining, is conveniently displayed on the OLED display in real time.

A quick triple click turns it on, and in case you forget, a single press of the power button will remind you onscreen. Two up and down directional buttons select the temperature which you can set to the single degree with each click, or scroll up or down fast when you press and hold.

Press and hold the power and down buttons to change between Fahrenheit and Celsius, or press and hold the power and up buttons to adjust the session timer to 4, 6, or 10 minutes.
Useful airflow slider for minor airflow adjustments
The new airflow slider is cool and I found it really useful for my preferences. The difference in the type of hit I take when it's opened versus closed is pretty significant and I found a use for both styles.

As I mentioned earlier, using the Starry is like sipping a cup of hot tea. You're not going to chug it down all at once. Slow, small sips is the way to truly enjoy it (and not hurt yourself) and the airflow adjuster lets you sip at your perfect speed and strength. For example, if I want to sip a little faster and take in a full, direct-to-lung draw, I'll open it all the way. It has the least resistance on my lungs. I'll also open it all the way when I use it with a bubbler.

However, sometimes I want a hit that's more reminiscent of a roll-your-own where I take a small sip into my mouth and then inhale it. This is where I close it all the way for a tighter draw. It's a little more relaxing for me and I can really dial in my dosage when I'm going for more precise effects.

Or if I want somewhere in between, I can set the slider somewhere in the middle for a nice combination of the two.
4, 6, or 10 minute sessions
I don't usually think too much about the length of the session. I stayed on 4 minutes most of the time, but I found 6 and even 10 minutes to be a nice lengthy session when I had nowhere to go and wanted to relax into it.

To switch between 4, 6, or 10 minute sessions, click and hold down the power and up directional buttons until it vibrates and the timer changes.
Sturdy, compact feel with modern flair
The Starry V4 feels like a solid, high-quality device. It has enough weight to it to warrant some respect and the mouthpiece and buttons feel smooth and sophisticated. Its buttons are clicky and responsive and the slider is smooth and seamless. Its matte body and shiny metallic trim gives it a more mature, modern tone that I really like. It looks less like a toy and more like a quality tool for consumption.
Pocketable and ready for any excursion
The Starry V4 is solidly built but is slim and compact enough to fit in just about any pant pocket, small bag or purse. It's just a tad on the heavy side so it may swing around a bit in looser pockets, but it travels just fine. Bring a spare battery with you and you're ready for hours of session time wherever you go.

Height: 4.5 in / 11.4 cm (mouthpiece closed), 5 in / 12.7 cm (mouthpiece open)

Width: 1.5 in / 3.8 cm

Weight: 4.8oz / 137g